Feature Comparison: Spalding vs Wilson Basketball 2023 – Better Brand Choice
Nowadays, Spalding vs Wilson basketball is the talk of the town, especially if you are a basketball freak. You might have been comparing Spalding and Wilson to find out which is better. Undoubtedly, professional players prefer both of them over other options. Spalding leather basketball became the official National Basketball League(NBA) supplier in 1983 and continued till the 2019-2021 season. In the middle of May 2020, NBA announced switching from Spalding to Wilson. Here, the debate arises on the better option. Let's learn the featured comparison in this article.
Features Comparison: Spalding vs Wilson
You might be wondering which Brand of basketball is best. The answer is simple; it depends on your personal preferences. Both brands have an accomplished level of basketballs. But of course, players do consider different factors such as durability, price, feel, and choice. For durability and affordability, the Spalding basketball is better. On the contrary, if you consider the feel in hand, and the moisture-wicking material, then Wilson is preferable.
Difference between Spalding and Wilson Basketball:
Here are some prominent features of Spalding basketball.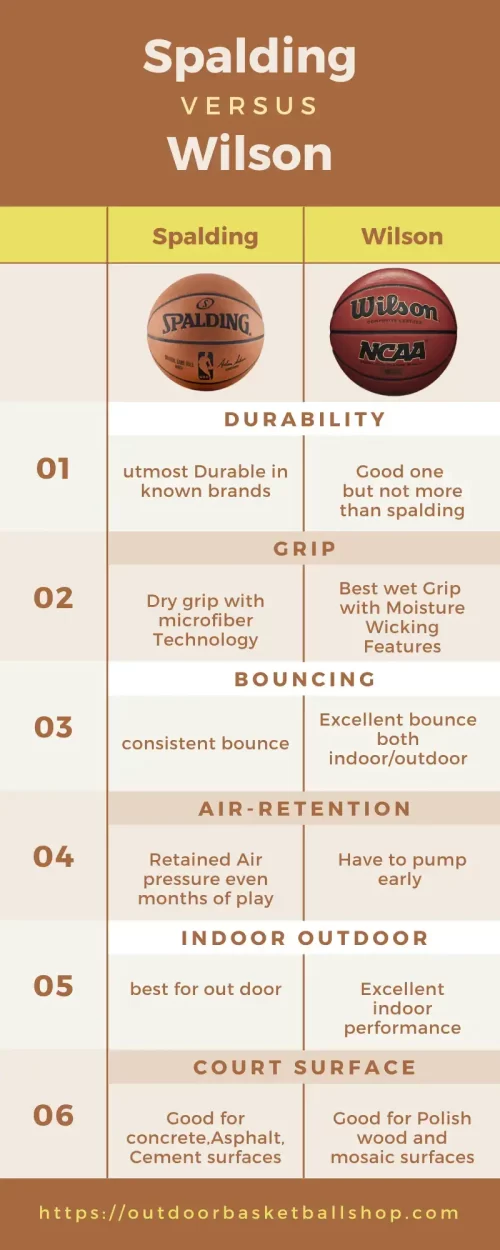 Spalding offers extraordinary performance and incomparable durability.
The dry grip microfiber material which has full-grain Horween leather makes it a fantastic basketball.
It is a tacky ball that gives a good grip.
When it comes to bouncing, Spalding has a perfect bounce.
Here are some excellent features of Wilson basketball.
Wilson basketballs are outstanding to offer the best grip with the maximum capacity of staying in wet palms. They have excellent moisture-wicking material.
The EVO microfiber composite material lets the player hold on to the ball's outer layer.
The Wilson game balls don't have modern technologies and are crafted in an old-fashioned way. They don't have air retention technology or an air pump, but they have the best moisture-absorbing features.
Many professionals nominate this ball for its excellent grip and playability, thus increasing the quality of the game.
NBA Switching Spalding Basketball:
The end of the NBA's partnership with Spalding seems like a surprise. Albert Spalding founded Spalding in 1876 in Chicago. It became the official supplier of the NBA in 1983 and continued till 2020. NBA president of global partnerships said in a statement. "We were partners for 37 seasons dating back to when Wilson manufactured the first official NBA basketballs in 1946, and we look forward to growing the game together."
Wilson is New NBA Game Ball:
The Wilson NBA official game ball features the already accustomed eight-panel configuration of the Spalding. During the last year, the NBA and the National Basketball Players Association (NBPA) were making combined efforts with Wilson to develop and approve the new game ball through team assessment sessions. The Wilson NBA game ball comprises the iconic NBA and Wilson logos in full-grain pebbling. The Wilson logo has an anthracite inline as well. "Our partnership with Wilson fittingly comes to life as we approach our 75th anniversary season," said Salvatore LaRocca, NBA President, Global Partnerships.
Which basketball Brand is the best_ Spalding or Wilson?
NBA's switching to Wilson has raised many questions across global basketball agencies, associations, and high school basketball federations. The NBA and Wilson kept the design and specifications of the ball much close to the original Spalding. Moreover, Kevin Murphy, Wilson Team Sports general manager, said they had sent numerous balls to players worldwide to get feedback and measure their experience. Undoubtedly, the new basketball will be easy for the players who have to transition into using a new ball.
The answer to which Brand is the best is tricky and complicated, as the latest switching does not mean that one Brand is better. Both brands have perfected their work in making matchless balls for the league.
The differences between Spalding and Wilson are not quite prominent. The new Wilson NBA basketball grooves are a bit longer for a perfect grip. Moreover, Spalding used the monochromatic black logo, whereas the Wilson logo is silver on one of the panels. The Wilson basketball is better than the Spalding to some extent.
Frequently Asked Questions(FAQ'S):
1. Which basketball is better, Wilson or Spalding?
In a survey by John Dean, Spalding basketballs are better than Wilson, whether you play indoors or outdoors. According to George, Spalding basketballs have better softness and touch than Wilson.
2. Is Wilson Replacing Spalding?
We won't make an overstatement if we say that; yes, Wilson is replacing Spalding now. Wilson is the new official provider of basketballs to the NBA for the 2022 season. Also, Wilson is supplying WNBA with basketballs for season 2022.
3. Why did the NBA switch from Spalding to Wilson?
The contract of Spalding's sponsorship with the NBA expired after the 2020-21 season, and they couldn't agree on terms for a new deal, plus they want to introduce innovations. Although, Spalding will continue to produce the official NBA backboards, rims and a few other lines of basketballs.
Hello!
My name is Kaz, and I am a devoted basketball enthusiast with over 15 years of experience both as a player and a coach. Beginning my career as an assistant coach for a college team, I soon found tremendous success as a professional basketball coach. I derive immense pleasure from assisting and mentoring others in matters pertaining to basketball equipment, and as such, I freely share my training programs with my followers and readers via my blog. Learn more about me on my about page.