If you're looking for a prompt guidance, then the Wilson NCAA Replica is my recommendation for the best outdoor basketball.
Basketball too soft to dribble; losing grip, flattening of bounce owing to frequent air pressure loss makes you tired of the overall sport. I can help you to find the best outdoor basketball with perfect texture if you pay attention to two key factors.
First, select the outdoor basketball that can provide a fantastic grip during an enthusiastic game. Second, your basketball remains tight and durable on irregular court surfaces.
We Just researched Top Notch Basketball For Your street play!
In this  article we compiled a massive research and bring up with the best basketball ball selection for outdoor use, realizing enthusiastic game requirements.
How to Buy Right Outdoor Basketball: Step by Step Guide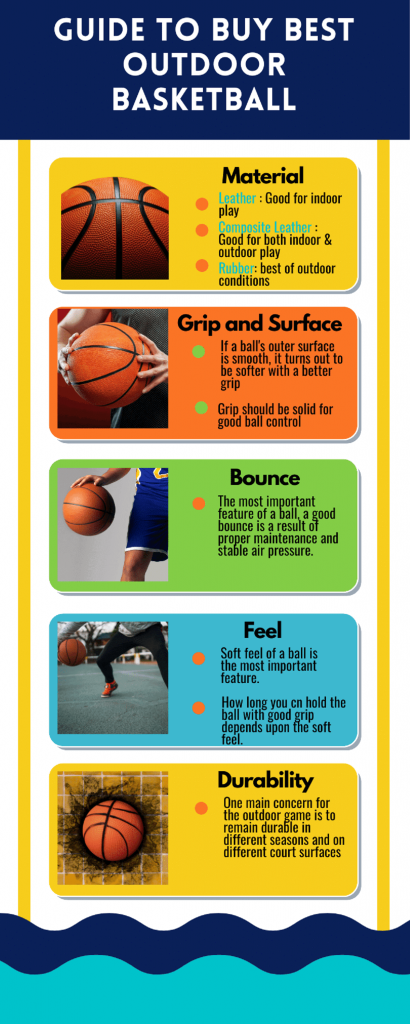 Buying a superb and durable basketball in 2023 needs researched based information, So that any improper deal might not ruin the zeal and zest of  game. There are few things you should keep in mind before the outdoor basketball selection. First is the type of basketball. Secondly, what is your play area and you have to choose the type according to your  court surface. There are three types of basket balls.
Indoor Basketballs
Outdoor Basketballs
Indoor/outdoor Basketballs
Material
The main concern in the design of a basketball is their cover material considerations. Generally, basketballs come in three materials:
Full Grain Leather
Composite (synthetic) leather,
Rubber.
These materials have their own pros and cons. Full-grain leather balls are of top quality used in Olympics, NBA, and WNBA games.
A question comes in mind: whether full grain  leather basketballs good for outdoor?
No they are not good choice for outdoor basketballs. Remember  an important thing about full grain leather basketballs, that they do not perform well on outdoors. Asphalt or concrete surfaces of outdoor courts will deteriorate the leather quickly  due to high resistance between two surfaces. We can say that full grain leather is suitable for indoor play at sophisticated court surfaces.
What material to look for when buying an outdoor basketball?

As you know, durability is the primary concern for the players in a game, So rubber and synthetic materials are specially designed to withstand the hard outdoor surfaces. Rubber and Composite leather balls provide an added grip and ready to play from day one.
So an outdoor basketball made of  rubber and synthetic  materials is good choice for outdoor play. Synthetic leather balls can be exclusively indoor or both ones.
If you want to play both inside and outside courts with the same ball that does not put you in trouble when played on concrete, then Synthetic leather balls are the ideal fit for you.
| Material | Preferred Play | Cost | Court Surface |
| --- | --- | --- | --- |
| Leather (full-grain leather) | for indoor play only | Very costly | wood , other |
| synthetic leather | outdoor play(can be used indoors) | Affordable | Cement, concrete, asphalt |
| Rubber | both indoor and outdoor play | Cheap | Concrete or asphalt |
Basketball Sizes
There are three main sizes of basketball, and they vary by Play level, gender, and age.
Check: Basketball Sizes Guide
Grip and Surface
If a ball's outer surface is smooth, it turns out to be softer with a better grip in hands. However, balls with logo-engraved surfaces and grooves turn out problematic for the shooter during the game when the ball is at a consistent shooting touch. Such balls become slippery so quickly, and pass's accuracy gets affected.
Basketballs with rough surfaces don't yield peak performance. To maintain good grip light but stable touch is required when dribbling. The few things that support good performance at that time are right-sized internal padding and smooth surface response.
Ability to handle the moisture
As the game progresses, moisture can find its way through sweating or rain onto the ball, and poor quality balls can ruin the playing experience. If a ball gets slippery with moisture in hands it is not worth buying especially for the summer season when everyone sweats as the game progresses. Luckily, manufacturers improved the design to absorb moisture during an intense game. Nonetheless, a consumer has to pay the premium price for the full moisture-absorbing quality to enjoy the game.
Durability
One main concern for the outdoor game is to remain durable in different seasons and on different court surfaces. Dust, moisture, pebbles, and metal-based backboards and nets have their damaging effects on a ball. If a ball remains usable for a year, definitely it is worth buying for the second time. Some basketballs start bulging after a few weeks use and no one likes to stumble the market every few weeks. Consequently, the ball must give you the feeling of "remain play together" in outdoors and indoors. Indoor balls should be avoided to use outside unless they're labeled to use outdoor explicitly.
Air Leakage
Cheap basketballs deflate quickly and make dribbling difficult when the season changes to cold. Though all outdoor balls leak the air a little bit, yet a good quality ball remains tight, and a bit of air leakage is much less frequent. Deflation or inflation (in summer) is part and parcel of a basketball game, so a ball pump is a must-have part of the game.
Age consideration
If you are a professional basketball player, you need a composite leather ball of the size recommended for your age group so that you may enjoy the dribbling during the game. On the other hand, if you want your young kids to play outdoor and learn the basics to shoot hoops here, durability is more critical so that a cheaper rubber ball will be the best choice!
Bounce consistency
A consistent bounce is essential when you dribble down the ball in the court. An inconsistent bounce at an unanticipated speed can confuse the player. Generally fully inflated, balls attain a right bounce when you dribble it. As a rule of thumb, a good bounce is a result of proper maintenance and stable air pressure.
8 Best Outdoor Basketballs Reviews
In order to determine criteria for top picks of outdoor basketballs , Our team of professionals reviewed several practices. Selection criteria considers usability tests, usage period, buyer's reviews and coach's opinions. We have nailed a list of more than 33 considerations into following 8 best outdoor basketballs in 2023.
Following reviews make your selection obvious by highlighting surface texture, grip, bounce, durability, user experience and the user ratings.
1. Spalding NBA Street Outdoor Ball -Best Budget Outdoor Basketball
Specification
Rating: ⭐⭐⭐⭐⭐
Size: official size 7 (29.5 inches)
Weight: 1.75 pounds
Features
Highly-durable, specially designed rubber cover for outdoors
Designed to defy the rough-and-tough surfaces
Hyper grip enabled through deep channel design
Best cheap basketball
Spalding occupies a predominant place in the manufacturing of good outdoor basketballs with top quality material. Spalding NBA Street is specially designed for outdoor games.
Nowadays, this ball is among the top-selling balls for beginners and equally popular across the affordable basketball items. Playing in your driveway with thorny roses around, this ball is the best durable option, you should consider first.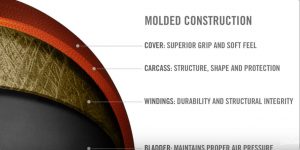 For some reason, if you want to play indoors, this ball is sufficient to dribble and shoot indoor confidently. The durable design helps to maintain the ball balance and control after several months of use.
Go ahead for a tremendous economic and durable deal!
Value for Money
This ball is what I like to call the "economy option." Spalding NBA Street Outdoor Basketball is among the best outdoor basketballs on the market. It has everything you need in an outdoor ball. The pebbling gives you a good grip regardless of the weather. The deep seams allow you good handles, and the rubber is soft enough for a decent feel. This ball also comes fully inflated so you can start to shoot hoops right away!
Two-Tone Outer Cover
The ball is good enough to provide a perfect grip for its outer rubber covering with a full pebbling design. However, when it gets dirty, you lose a lot of that grip. The deep channels on the surface of the ball facilitate handling the ball like a pro and provide reasonable ball control during the game.
The surface of the ball feels soft for its two-tone outer cover as compared to most of the other balls with hard and rough surface feelings. So, if you have played a high-end basketball, you will take some time to accustom to, but eventually, you will love NBA street basketball for its outdoor play qualities.
Well Balanced
Inconsistent bounce complaints are widespread among basketball's balls. If your game has been suffered from this complaint, then this ball will soothe you with its bounce consistency on different court surfaces.
A well balanced, fully inflated ball attains a good bounce and enhances proper ball-handling techniques. If you want a consistent bounce during the game, then maintaining good air pressure and maintenance are the two critical factors.
Tough to Rough

If you are looking for durability, the ball stands out among the crowd. Asphalt and concrete court surfaces show prolonged signs on the balls during an intense game. A reviewer shared his experience of using this ball for about 3 hours every day and has no sign of wear for many weeks. The design of the ball meets the needs of outdoor play in extreme seasons, wet weather, dust, and metallic surfaces.
You can choose this ball without any hesitation about your kid's outdoor play. The cover is very durable and able to face the rough treatment. The ball holds its air pressure even if left outdoors. Moreover, you won't be required to use your air pump after each game.
The Spalding NBA Street Basketball ball has earned a rating of 4.6/5 stars from more than ten thousands of reviews. The ball comes fully inflated with the NBA's official size and weight specifications. Still, it's available in Size 6 (intermediate size) and Size 5 (Youth size).
Verdict
Spalding basketball gives you the freedom from budget constraints for being affordable and offers a good deal. So, it is the ultimate choice for those who are in search of affordable but quality basketball. The choice of this ball will not require you to replace the ball after every few weeks.
Pros
One of the most affordable
Super durable rubber cover
Good bounce across different outdoor surfaces
Available in official NBA size and weight
Cons
Rubber cover does not offer sufficient grip and overall feel, which can be easily noticed by most experienced basketball players
2.  Spalding NBA Zi/O Gameball-

Best for Indoor-Outdoor Play



Specification
Rating: ⭐⭐⭐⭐⭐
Size: NBA size 7(29.5 inches)
weight: 1.3 pounds
Features
Cover in Zi/O Tournament composite leather
Foam-backed design for excellent feel
Specially designed to play both indoor and outdoor
Shipped inflated and ready to play
Spalding NBA Zi/O basketball is an excellent pick if you want to buy a single ball to cope with the needs of indoor and outdoor play.
As the ball comes in official weight and size, thus professional leagues preferred NBA Zi/O for their tournaments across the country. This ball is the official selection of both the WNBA and NBA for their matches.
Soft feel

The outer cover is backed with foam, giving a soft feel that many composite leather balls lack. While the pebbling on the offers a good grip for shooting in the gym and dribbling in the park. If you need a ball regularly for practice, this ball will give you a good feeling for a restricted game scenario.
Bounce Consistency

The Zi/O attains a good bounce when adequately inflated to recommend 7 PSI. If you want to maintain a good bounce, air pressure doesn't accede this recommended pressure. This feature enhances a ball's life because frequent pumping may lead to bladder break and leaks. The bounce consistency provides reasonable game control.
All-Purpose Ball
In this price, this is an all-purpose ball that offers durability. If your outdoor play frequency is more than indoors, the ball start wearing soon as compared to other balls that are exclusively outdoor.
Though it performs well than the softer, indoor-exclusive composite leather balls, yet rubber leather hybrids will be a rational choice as compared to composite leather.
If you play mostly indoor and go outside to play off and on, then this ball will suffice your everyday needs.
Drier Grip

The Zi/O offers full and deep pebbling with the ability for moisture-wicking. Though pebbling doesn't provide smooth surface yet the grip that the ball offers is excellent, and the cover has tack in moderate amount. So the grip on the ball turns out smooth after the use first few weeks.
In the beginning, you feel some sticky feeling like something sticky covers the entire surface of the ball. Now it is up to your personal preference that you prefer the drier grip or can play well with sticky grip feelings. The grip on the ball smooths out after the first few months. But even then, the ball feels grippy and is still very much playable.
Moisture Handling
Deep pebbling offers moisture-wicks; the role comes to play when your hands get moisturized with sweat during the play and prevent the ball from being slippery. The channels on the balls aren't pebbled, like other balls of the same brand.
Our experts' rated the ball 4.7/5.
Verdict
The Spalding NBA Zi/O basketball is a good quality  basketball for street play as well as on vinyl courts. If you want to improve your game in any environment with a durable ball, this is a good option. Unlike other composite balls, you don't have to compromise on ball handling and feel of the cover. The Zi/O's fully pebbled cover provides balanced consistency across the ball. This ball offers a narrow channel design, which is useful in a sense to help the player in dribbling.
While on the other hand, this design picks up more dirt from the outdoors than different models. Indeed, you need some cloth to keep wiping this off
Pros
More durable for its sturdy composite leather cover and foam-backed design.
Composite leather and full pebbling deliver a superior grip
Affordable Deep channels for greater ball control.
Cons
The grip is susceptible to dust (similar to most hybrid balls).
It doesn't hold air as well as other indoor-outdoor hybrids.
3.  Wilson NCAA Replica Game Ball–

Best All Rounder Outdoor Basketball
Specification
Rating: ⭐⭐⭐⭐⭐
Size: Official size 7 (29.5 inches)
Weight: 1.4 pounds
Features
NCAA official ball replica
Special moisture handling material
Embedded composite Channels
The softer cushion core
For both indoor / Outdoor play
Official Inflation Level: 7-9 PSI
Wilson has earned a name in the manufacturing of basketballs that set standards for the indoor basketball designs. Obviously, you can expect a superior product from them. This basketball is one of the best-selling balls from the brand. Wilson basketballs are trustworthy, so is the NCAA Replica that meets all NCAA requirements and a preferred pick as best outside basketball for both men and women in the NCAA Championships.
Dense Pebble Pattern

The grip is the most preferred quality that comes in mind when purchasing a basketball. A softer ball provides more grip and receiving passes and making shots easier. Dense pebble pattern on this ball helps to maintain hands grip, even when you don't get the desired pass.
Though the ball's cover is made with composite leather that seems soft on the hands. But for an outdoor game, a softball is not a suitable choice.
Smooth Channels

A remarkable quality of Wilson balls design is the pebbled channels, meaning that channels themselves are not smooth. This quality saves your fingertips to suddenly slip off the channels, especially if hands get sweaty during the game.
The channels feel quite shallow and neither wide nor narrow. If you prefer playing with deeper channels, you might want to look elsewhere, but the difference is not particularly big.
Ball Handling
Grip and handling of this ball both seems good even for the starters. Its laid in channel design make you feel quite comfortable when it comes to dribble as much as you can. Moreover, these channels support to get proper spinning control and makes the ball-handling easy for varying palm sizes.
The NCAA replica is a basketball that is suitable for both indoor and outdoor use, so unsurprisingly it is less grippy than indoor-only balls.
Cushion Core Technology
The Cushion core technology in the ball design maintains a good bounce on the rim that leads to improve the shot percentage. Cushion core makes the ball more predictable and enhances its reliability.
However, the bounce consistency doesn't seem constant. Sometime it may not attain the bounce where you expect it to be. Being in a list of budget basketballs, that's quite tolerable.
Nonetheless, if a bounce consistency is one of your top preference for the game then NCAA Replica Game Ball may not meet it fully.
Extra Inner Coating

Wilson ball comes with materials below the cover that can wick moisture away. This means that you can enjoy the drier feeling throughout the entire game. As the core is backed up by a butyl rubber for durability, this feature eliminates the ball slipping or even losing control.
Wilson's Top Durable One

Durability is the critical concern in the selection of ball for outdoor play,since a wrong choice can wear out quickly on concrete and outdoor asphalt surfaces. Wilson ensures that NCAA Replica remain reliable enough to withstand rough outdoor courts without making any compromise on the grip. This ball is more durable for outdoors, if you play often indoors with the occasional outdoor game a softer composite leather ball will suit you more.
If we compare the durability of Wilson's replica game ball with expensive leather balls, it may not appear among the top. Still, so far, it performed remarkably well among the basketballs. Even I have noticed that the performance and grip remain consistent after many months of regular use. The only few changes occur as the minor marks on the surface of the ball.
The Wilson NCAA Replica Game Basketball earned a rating of 4.5/5. It is available in size 7(29.5) and size 6 (28.5-inch) ball. Size 6 is ideal for women and youngsters, who find the intermediate size easy to handle.
It is an excellent looking ball when you want to use something different from routine. It is available in pink color too that seems attractive if you're going to change the looks of the.
Verdict
This ball is admirable for providing the value of the money as an all-rounder. A versatile ball that facilitates a game range from starter to professional. This basketball is one of the good choices if you are looking for the first-rate outdoor basketball for men.
This ball is more durable for outdoors if you often play indoors with the occasional outdoor game a softer composite leather ball will suit you more.
Pros
Durable composite leather cover
Pebbling channels make a good grip
Broad and deep channels patterns support variable hand size
Cons
The grip is susceptible to dust (similar to most hybrid balls).
It doesn't hold air like other indoor-outdoor hybrids.
4.  Spalding NBA Replica – Top Durable Outdoor Basketball
Specification
Rating: ⭐⭐⭐⭐⭐
Size: Official NBA size 7 (29.5 inches) and size 6(28.5 inches)
Weight: 1 pound
Composite leather cover
Features
Comes inflated and ready to use
Best basketball for indoor and outdoor game
supported by Spalding's Warranty
If you want to practice being in the NBA league, you should select the Spalding NBA Replica Game Ball. It is the kind of choice that supports the game of any expert level and in the outdoor and indoor environment. It is the best replica basketball  that gives you the feeling of an NBA game even in your driveway. Spalding is providing us the quality to improve our game with the best basketball to use for outdoor hat provides us with the feel of a professional sport.
This top-rated basketball is best for outdoors and equally useful if you want to play in-door.
The ball's material is composite leather that feels like the genuine leather, But the ball has an excellent strength that is required to face the hard outdoor.
The grip seems as good as leather balls. Our research confirms the good performance of  this ball on the ground with players of various age and experience. Above all, you don't need separate gears to carry for indoors and outdoors; this ball suffices the needs of any surface and environment.
NBA Official's Design

Spalding provides the quality that is very close to official NBA basketball with minimal changes to the design.
Maintains Grip and Softness
The Spalding Replica NBA Game Ball is one of the top balls that provide the best grip during the outdoor as well as indoor play. It feels a little slippery when you use it the first time, but after spending a few hours on the ground, it becomes easy to handle and feels as soft as a genuine leather basketball. When we compare it with the Wilson NCAA Replica, this ball basketball feels a little more grippy. So if the grip is your main concern, you can place spalding NBA replica as a top outdoor basketballs in your choice list
Pressure & bounce Consistency
Bounce is another critical factor when selecting a basketball. Too bouncy or too flat response disturbs the game pace, so a consistent repose is necessary to enjoy the game exactly. The Spalding basketball has a good bounce, which is very consistent too. You can experience the exact bounce just right when the air pressure is around 7.5psi.
This optimal pressure also retains the feel of ball soft along with good bounce. A pump of 8psi may be suitable for other balls, but for these balls, it adds a little bit hardness to the ball. Moreover, its 8-panel design and standard pebbling help to maintain the consistent bounce.
Feels Like Leather Ball

The NBA Replica Game Ball feels soft like a leather ball, and that softness charges its price on a compromise that is durability. Users think that in the outdoor environment, the ball wears off a little bit faster than others that are labelled to play both  indoor and outdoor.
Furthermore, the basketball lost some air if you use the ball after some days of rest. The quality of the butyl bladder of the ball seems to slightly doubtful as compared to the bladders of other brands.
This ball has earned a rating of 4.3/5
Verdict
Overall you will enjoy the game with NBA Replica Game Ball. Its excellent grip and consistent bounce make it prominent among the other balls of the same quality. However, the softness and ball control comes at the cost of durability. But, if you like to play more indoors, with the occasional outdoor play enjoyment, the Spalding NBA Replica outdoor/indoor basketball is a great pick.
Pros
Consistent bounce
Good grip
Cons
Loose air quickly
Less durable for outdoors
5.  Nike Hyper Elite Official – Best Grip Basketball from Nike
Specification
Rating: ⭐⭐⭐⭐⭐
Size:

Official Basketball

size 29.5 inches
Weight: 1.1 pounds
Synthetic leather and rubber compound
Features
Material offer great feel and Durability
Good ball control through concave channels
Suitable for indoor and outdoor play
If grip is your ultimate goal then Nike hyper elite comes at the top choices.This basketball from Nike  provides you  perfection in terms of grip, feel and durability.
Dimple Design from Nike for Playground Basketball

The material used in the casing and the dimple design gives a perfect feel. The rubber and synthetic leather used in it gives you an excellent grip over it. For every reviewer, the quality of grip and feel of Nike elite championship ball is beyond any doubt. Moreover, the dimple design instead of pimple and the impeccable panel give the ball an unparalleled grip.
Bounce Accuracy

The rubber and synthetic leather might not give it a stiff surface, but it provides a perfect bounce to pass, move, or shoot the ball. You have to check the pressure and accordingly pump it for a better pump. Furthermore, when you get used to it, the bounce accuracy is beyond complaint.
Delivers Money's Value

The ball does not deflate quickly and retains air for a long period. More rough or coarse surfaces outdoors might give it wears and tears, but it will surely fulfill your money's value.
The only worry is that it picks up dust very quickly because of its dimple design. However, it remains intact without considerable wear and tears for an extended period.
Moisture handling
The slippery or stickiness due to sweating is a matter of great concern for players and trainers equally. However, this basketball is not prone to moisture, thereby affecting the ball's grip or handling the ball during dribbling, passing, or shooting. The sweat on the palm while holding the ball and on the body during passing potentially makes the surface of the basketball slippery; however, you need not worry if you bought the Nike hyper elite official basketball.
The Nike hyper elite official basketball has earned 4.5 ratings out of 5.
Verdict
In my opinion, Nike hyper elite official is undoubtedly the best outdoor basketball, if you want unparalleled grip and durability in the long run. Its dimple design on the surface and the material used in its manufacturing gives it a distinctive shape and casing.
Although it provides a strange feeling initially yet within a few games, you will get acquainted with its texture and grip making you fond of it forthwith. Neither it is stiff enough to give you inaccurate bounces, nor is it sticky enough to hinder you from shooting.
Pros
Superb bounce and grip
Great ball feel for dribling and shooting
6.    Spalding NBA Zi/O Excel – Best Performance Gameball for Outdoor :
Specification
Rating: ⭐⭐⭐⭐⭐
Size: Size 6(28.5 inches)
Weight: 1 pound
Features
Composite cover Features the NBA Zi/O logo
Design is backed with foam
Comes inflated and ready to play
Suitable for indoor and outdoor play
If you're a passionate basketball player who dreams of being a pro, you should select a ball that boosts outstanding performance and exceptionally durable across outdoor and indoor surfaces. One of the best options is here as the renowned Spalding NBA Zi/O Excel Basketball.
The Spalding
NBA Zi/O Excel is a versatile basketball which meets all the expectation; a quality basketball should have. Fulfills the needs of indoor and outdoor game requirements. Being the choice of professional game coaches, it satisfies the standard size and weight specifications of the tournaments.
Control via Deep Pebbling
An excellent grip of Zi/O Excel surprised me on clean and dry surfaces. Performance seems consistent when it comes to dribbling and shooting. Surprisingly the grip appears close to that of a high-quality indoor-only basketball. However, the grip is slightly disappointing during the dribbling while the ball gets dirty enough. At that time, the deep pebbling on Zi/O Excel helps to take some control.
Good Performer in Wet Conditions

Zi/O Excel has functional water wicking capacity when our team of professionals performed a water-wicking test on the ball. After test, we lead to an inference of being a good performer in wet conditions. While grip-wise, the ball performs equally like all other balls in the market, as no basketball provides excellent grip in wet conditions.
30 percent Deep Channel

The composite leather cover characterizes an additional foam backing just below the full pebbling to enhance ball control even more precisely. Channel design is made 30 percent deeper for a consistent bounce during dribbling and passing. Right air pressure helps to maintain a good bounce, recommended 7.5 psi sustains a reasonable softness, and good bounce.
Soft Feel with Perfect Weight
Excellent Material composition, soft feel, and perfect weight are all critical when it comes to competitive play. The fine composite leather cover combines soft feel with durability in both indoor and outdoor surfaces, without raising doubt on ball bounce or weight.
Spalding NBA Zi/o excel earned a rating of 4.3/5. Available in intermediate Size 6 (28.5 inches).
Moreover, it is  labeled  as best Choice at famous Amazon under the category of Spalding intermediate size (28.5 inches) balls for outside play. The ball comes at an affordable price and provides a good value for money.
Verdict
Spalding NBA Zi/O is versatile enough with a prominent feature, a foam-backed composite cover style that enhances the grip and feels soft in hands. This ball performs well in competitive outdoor as well as indoor play. Though many reviewers marked it optimum for outdoors. If you are looking for a professional ball at an affordable price, then Spalding NBA Zi/O Excel is an ultimate choice. Similarly, if you are trying to find a top notch gear to improve your skills to a professional level, then your search ends here.
7.   Spalding Rookie Gear – Best Light Weight Basketball for Youth
Specification
Rating: ⭐⭐⭐⭐⭐
Size: Youth Size 5 (27.5 Inch)
Weight: 1.25 pounds
Features
Composite cover for excellent performance
15% lighter to learn the skill
Shipped fully inflated and ready to play
Good for indoor and outdoor play
Want to give your kids a head start on lifetime strong aptitude? Instill the habit of being agile and children's sports in their daily routine. Sports enhance a child's skill sets to a level that impart healthy adulthood with superior reflexes, quick thinking, and advanced motor skill.
Spalding Rookie Gear comes in the list of top-selling basketball and popular among the category of youth basketball. This basketball is equally popular in women's basketball category for the right size, rainbow color and soft grip. The performance of the ball remains excellent during indoor and outdoor usage, but above all, Rookie gear paved the foundation for the grooming of young basketball players. It is the best pick for kids age 6-9, and it will implant the craving to master the game skills essential for being an expert.
Combines Grip & Durability

Spalding Rookie Gear is slightly big size than the standard 27.5 inches, but approximately. 25% lighter in weight when we compare it with the standard size 5 ball. This size and weight enhance grip in the right approach, and kids learn the ball-handling and shooting skills more quickly.
The quality of composite leather design seems premium with small pebbling throughout the ball surface that combine grip with durability. Both features must be well-adjusted, especially for the ball that is famous for its universal model for young kids. Even when the ball gets wet due to sweat or outdoor play, the grip remains remarkably good, and a suitable choice for relative damper surfaces, children choose to play on.
Excellent Bounce with less Effort

The bounce is the quality where rookie gear rocks. You get an excellent bounce with less effort. Spalding specifically designed this ball for convenient shooting and easy rebounding, which boosts the confidence and aspiration to learn new skills. The bounce seems consistent in the indoor and harsh outdoor surfaces.
However, some energetic kids with the experience of other standard balls may find the bounce relatively flat. But for starters, the bounce is good enough with less effort. Even when the ball is not having desired pressure, bounce remains remarkable.
Ball deflates a bit early, which is not unexpected for youth basketball. The experience of switching from a simple rubber ball to Spalding Rookie Gear is a remarkable one, and reviews reveal that kids love to play with this ball.
Vibrant Color

The ball is available in brown and rainbow colors. Rainbow color is the ultimate choice of many kids and equally popular among the women. This color is easy to find as other people around usually have a brown one. The vibrant visual makes the rebounding and passing more comfortable, as the player and spectator spot the ball quickly.
Durable Composite Leather

Durability is another fundamental consideration for youth basketball. Spalding Rookie Gear is made of composite leather specially designed for outdoor play. So the longevity of this ball is better as compared to balls that are not exclusively outdoors. When, it comes to comparison with rubber basketball, composite leather balls are less durable.
You will not need to change the ball throughout the entire year. The usage for an extended period is a big deal because kids do not confine to one court, and their indoor and outdoor play frequency is entirely unpredictable. So, if a basketball performs well throughout the year, it certainly provides value for money.
Rookie gear earned a rating of 4.6/5. Available in two colors and youth size five only.
Verdict
If you are looking to gift your young ones their first basketball, then go for this model. This lightweight ball with the systematic measurements assists children to acquire the necessary basketball game skills with appropriate techniques. Kids of different ages, from a 1st grader to 10 years old can enjoy the same ball for the play.
But you should ready for pumping the ball frequently. It is an all-rounder ball for children and women who are just getting into a basketball game.
Pros
Rainbow colors
enhance visibility
Lightweight
Cons
deflate quickly
Some time bounce feels flat.
8.  Under Armour Stephen Curry – Best Men's outdoor Basketball
Specification
Rating: ⭐⭐⭐⭐⭐
Size: Official size 7 (29.5 inches) and intermediate size 6 (28.5 inches)
Weight: 2.13 pounds
Features
Under Armour GRIP SKIN Composite outer cover
Full Ball Pebbling with deep Channels around
For better shape 80% Nylon Windings
100% Butyl Bladder
Under Armour is a famous brand of sports and footwear. Although Under Armour is comparatively new to basketball but has earned an excellent trust by grabbing big sponsorship deals with the prominent basketball players. While they are new to ball-manufacturing as compared to other well-known companies in that field, still we found the Under Armour 495 basketball awesome in both indoor and outdoor courts.
Grip Skin
The surface of the ball consists of GRIP SKIN composite along with an under amour's trademark for a good grip. The design of the ball itself helps in perfect shooting and flawless spin control. The composite cover material is excellent enough for a great feel that earned the praise of many reviewers. The pebbling pattern is slightly larger, and the space between each pebble is not extensive. This design may lead to the excellent grip and control this ball offers.
However, when you use the new ball, you find the surface more lustrous, and the ball feels a little slippery. Though after few days of use, the ball surface settles down to palm comfortably.
Durability
The ball seems softer as compared to other street ball products, and you have to compromise on durability for this softness. This ball seems to last less as compared to other harder balls of different brands. UA added 80% nylon windings to make sure the shape retention. Moreover, a 100% butyl bladder is used to for a long time air retention.
Bounce
UA is not too much bouncy as compared to the same range price other balls. For a better bounce, you have to pump it at 8psi, but pressure can lead towards a little bit of hard feeling of the ball. Sometimes the ball doesn't bounce off the court as you expect and returns at an predicted angle. An interesting thing that some users mentioned that UA 495 has better bounce than Spalding.
Despite being a multicourt basketball, it feels very soft and doesn't peak perform on hard and rough outdoor courts. However, if you're an occasional outside player, then it's a practical choice.
The ball has earned a rating of 4.6/5 and only available in the official size 7 (29.5 inches).
Verdict
Overall a good quality ball for the price. Quickly break-in after use of week and starting bounce is better.Overall, it has sufficient grip, less bouncy, and good shape and air retention qualities. Experts recommend this ball to those who are less keen on bounce consistency and more conscious about grip. However, it slightly has a high price than other mltipurpose basketballs from other well-known brands.
Pros
Overall Good Grip and the weight feels accurate
Cons
Intense channels, On bouncing the ball, produce plastic sound, and doesn't dribble or bounce quite like a high-quality ball
Video guide on top outdoor basketballs
What are Pro Tips to Take Care of Outdoor Basketball?

Basketball is among the simplest and most popular games because you don't need any special requirements to start the play. All you need is to get an outdoor basketball with two good quality basketball hoops and companion players. You can play in indoor and outdoor courts; therefore, an outdoor choice needs to know about the basketball care during street or concrete play.
It's best to 

clean your basketball 

before storing it right after each play. The easiest and most effective thing is to wipe all the dust with the help of a dry towel or soft cloth. A small brush (even your old toothbrush)can be used to clean the grooves more effectively.

Store your outdoor basketball away from moisture; otherwise, the fungus might ruin the outer covering.

In outdoor courts, keep salt-based deicers away because the salt in these chemicals is leather friendly and can damage the ball's leather-based material. Always use salt-free deicers or wait for the natural melting of ice.

Make sure to mend small ruptures on the ball before storing it in a dry place. In the market, leather repairing glues are available to apply them carefully.

Keep an outdoor basketball away from direct sunlight – Sunlight can cause damage to the outer covering of the ball.

 Rain or wet court surfaces are also unsuitable for leather or synthetic materials.

 For long time storage, keep the ball inflated.
Best Outdoor Basketballs Must Have Features

After massive research and collecting the experience of different experts, I concluded that you should consider the below-listed vital features before you decide to buy a basketball.
Bounce Consistency: regardless of the surface of the court

Durability: Quality constructive material to Cope with Concrete Surface

Soft and Tacky Feel

Moisture Wicking Feature

Solid Grip for better control
Final Verdict
After deep research, I put forward my finding for the best outdoor basketball. I hope you will select the right ball for the concrete and other outdoor surfaces. In the light of "must-have feature" information, It is easier to select a good basketball for a street play.
Court's surface has a great role in a ball's durability; On hard surfaces, the ball needs re-inflation more often than indoor courts. If you love to have a ball for years, I suggest you make a careful decision.
In my opinion,  Wilson NCAA Replica is a perfect outdoor basketball regarding all key factors. I will prefer Spalding NBA Zi/O  as a second choice for being best spalding outdoor basketball having  tremendous indoor and outdoor courts performance. I found Nike Hyper Elite Official superb to elevate the game professionally due to its fantastic grip.
I would love to hear from you, So don't forget to leave a comment or connect us through our contact form.
Frequently Asked Questions
Is composite leather good for outdoors?
Composite leather material is specially designed to facilitate outdoor  play. This material is durable on the rough cement and asphalt surfaces of the outdoor courts. Sometimes composite leather material is backed with foam; furthermore, pebbling and channel designs extend the grip and ball handling.
Which basketball is best for outdoor use?
Following is the list we sort out from lot of choices on the basis of of  best outdoor basketball reviews.
Spalding NBA Street basketball
Spalding NBA Zi/O Indoor-Outdoor basketball
Wilson NCAA Replica Game Basketball
Spalding NBA Replica Game Ball
Under Armour 495
Spalding NBA Rookie Gear Youth basketball
Spalding NBA Zi/O Excel Basketball
What is the best brand of basketball?
Spalding and Wilson are the two giants in the basketball manufacturing industry. If we compare these brands based on being officially approved by international leagues, then both are official suppliers of NCAA and NBA. Based on outdoor and indoor play, we can argue that Spalding is unbeatable in the category of best brands, while the best indoor basketball brand is Wilson.
In the category of an all-rounder basketball brand Spalding is unbeatable.
Can you use a leather basketball outside?
Pure leather based  basketball ball is specially designed for outdoor play, and you can't use this ball while playing indoor. Outdoor court surfaces are made with cement, asphalt or granite. These hard surfaces damage pure leather ball immediately.
What size is a full-size basketball?
The full-size used by the men's college, high school basketball leagues, and the NBA is size 7 (29.5 inches in circumference), which is also termed as official size basketball. The standard size for WNBA is marginally smaller, which is 28.5 inches in circumference.
What size is officially used in NBA?
Size 7 (29.5″) is the official size of all adult basketballs, suitable for males aged 15 years and over. The NBA Official Game Ball is a size 7 basketball and meets all size and weight specifications set by the NBA with a circumference of 29.5 inches.
What is the most expensive basketball?
The Spalding NBA Official Game Basketball comes at the top of the most expensive basketball list. The material of the ball consists of full-grain Horween leather. If you have no prior experience of playing with the genuine leather ball, then you may take some time to break-in.
Can I use Wilson's evolution outdoor?
The ball is specially made for indoor play. It is possible to play outside with this ball, but you should ready to face the early deterioration of the ball's material. So keep the replacement option ready in your mind.
What size basketball should my kid use?
An intermediate size (28.5-inches) is suitable for boys and girls in middle school with the age range of twelve to fourteen years. Similarly, girls and women up to 12 years can use the same intermediate size. For girls and boys with an age range from nine to eleven can use junior size (27.5 inches) in circumference, and this junior size is also a recommended official size in youth basketball leagues.
What Size Basketball Should I Buy?
Check: Basketball Sizes Guide
Which is better molten or Spalding?
While both basketballs are impressive in quality and feel, Spalding performs better than the Molten in many traits.
What basketball has the best grip?
The Spalding NBA street is undoubtedly provides exceptional grip and ball control, which makes this ball a kind of investment that never disappoints. Moreover, Nike Elite outdoor basketball is recommended by many reviewers in the good grip category.
What size basketball does a 7th grader use?
For the boys and girls of 4th to 6th grade as well as all of the girls in grade 6th, 7th, and 8th, the Intermediate size ball (28.5″) is suggested by the coaches. For all the boys above 7th and above grades, the Official ball size (29.5 inches) is used, which is also called full size.
Is women's basketball smaller than men's?
Yes, there is a slight difference between the basketball used by men and women. In the women game, the size of the recommended ball is around 28.5 inches in circumference. The size of men's basketball in the  game is 29.5 inches in circumference. On average, women generally have smaller hands than men's hands, so it's convenient for women to play with a slight small ball.
Which one is a better option: Under Armour or Spalding Zi/O?
You'll find that the UA 495 shares some common qualities with Spalding Zi/O. Both have traditional channels of rubber that are quite balanced in size and depth. The pebbling pattern of both is similar, though the size of the pebbles on the Under Armour 495 is slightly larger than the quantity found on Spalding Zi/O and facilitates a good grip. Even some reviewers prefer this ball.
How long should an outdoor basketball be good for?
Depends on many things like for how much time time you use it in a week. What is the frequency of your outdoor play and how well you pump it. If these things are maintained properly , your basketball ball  will last much longer (more than a year easily).
What ball does the NBA use 2022-23?
A prolonged official partnership between NBA and Wilson Corporation is announced recently, that announcement declared Wilson's game ball as the official ball of the NBA during 2022-23 and onward. Now Wilson's NBA game ball will be used  during the 2021-22 season, which is signified as the 75th anniversary of league. WNBA, BAL NBA 2K League and NBA G League will also use Wilson's official game ball for the first time during 21-22 seasons.
What brand Of basketball does the NBA use?
NBA has just ended their partnership with previously declared official basketball brand Spalding, who has been partners since 1983. Now the official brand for NBA for 21-22 season is Wilson sporting goods Corporation.