A quality basketball shoe is integral to every player, but not everyone is a fan of paying huge bucks.
Basketball shoes are, of course, known for their high-end traction, decent cushioning and robust ergonomics. However, when we talk about quality, there is usually a price point associated with such products. Not everyone has the budget to avail the top notch play shoes, which is often frustrating no matter you're a beginner or a professional in this sport.
If that's the case for you, you will be glad to know that we will be rounding 6 best budget basketball shoes within the $200 today.
Check: Best outdoor basketball
These six cheap good quality basketball shoes contain most of the bells and whistles of higher-end shoes, while making sure you don't have to break the bank for playing in them. So, whether you're looking for Nike basketball sneakers under 100 or cheap NBA basketball sneakers, we got you covered!
Best Budget Basketball Shoes for Top Performance
With most of the good inexpensive basketball footwear, they get outdated in the market too rapidly, which means finding the best bang for buck  is quite tedious . However, lucky for you, our list is based on dozens of customer reviews and a wide range of professional feedback that will definitely help you choose the ideal shoe for your needs. No matter which one of the following you pick, you won't be disappointed by our top picks of best basketball shoes available under $100 in 2023.
| Shoes | Rating | Price |
| --- | --- | --- |
| Overall best: Nike Precision IV | ★★★★★ | |
| Best under 100 $: Adidas Dame 6 | ★★★★★ | |
| Top cheap nike choice: Men's KD Trey 5 | ★★★★★ | |
| Budget signature choice: Adidas Harden Volume 5 | ★★★★★ | |
| Best value: Men's N3xt L3v3l | ★★★★★ | |
| Cheap good quality: Adidas D Lillard 2 Men's | ★★★★★ | |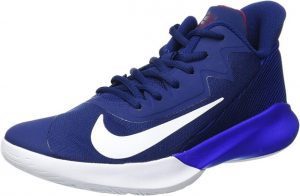 Features
Rating: ⭐⭐⭐⭐⭐
Equipped with multi-directional outer sole
Durable fit through reinforced eyelets
Made from cheap but good quality materials
Nike has been making the best budget basketball sneakers for quite some time now, and Precision IV is their premium yet affordable model in the series. It is similar to its precision III counterpart but with a better grip and tread pattern, which will get you up and running within no time.
Upper
The Upper of the Nike Precision IV is incorporated by light knit material, which is pretty thin and adds a bit of comfort to the design. Keep in mind that while adding a lot of force to the surface, it might stretch out slightly, but other than that, it's good to go.
Midsole
As far as the midsole goes, the heel to toe transitioning stands out from the rest of our list's cheap quality basketball footwear. The forefoot is nicely curved to give you that added balance and peace of mind whenever you're using it. Additionally, the midsole itself is made from Resilient foam, which provides you with that fluid motion of a premium shoe.
Outer sole
The outer sole of these cheap signature basketball sneakers features a modified herringbone pattern that looks quite pleasing and highly functional on the court. Also, the incorporated rubber sheet at the lower-end is rigid, which means the overall durability will also be quite decent for the price tag. Performance-wise the solid black sole is nothing extraordinary but being a budget model, you can't complain much.
Pros
Wrapped rubber outer sole for extra grip
Quality tongue for budget consumers
Ideal fit for most basketball fans
Cons
Low performance when exposed to moisture
Low-tier midsole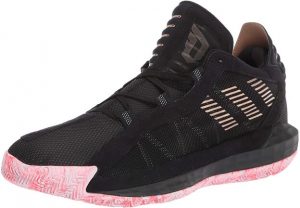 Features
Rating: ⭐⭐⭐⭐⭐
Features a Webbed lacing system
Cheap but cool looking shoes
Ideal for a Snug feel
Upper
Another member of the good cheap basketball shoes. The base length of this shoe is more than acceptable, and you won't face any complications in utilizing it. At the same time, the lacing system is quite pleasing at first glance. One thing I personally don't like about them is that the materials at the upper portion are a bit cheap in construction. Thus, it will feel stiff on foot to some extent—nonetheless, it's still a great performer.
Midsole
There are multiple eyelets on both the lateral and medial side of the shoe that are ergonomically attached to the midsole. In contrast to that, there is an external heel cup and inside padding, which is quite hard to find in many NBA shoes cheap models.
Outer sole
Like the previous model, the Dame 6 is equipped with a herringbone outsole, rugged, and gets you decent traction whether you use it indoors or outdoors. Although, it is advised to watch out for dusty surfaces. Similarly, the cushioning on this shoe is just amazing. You will defiantly praise the full-length light strike in it, which is not too mushy at all.
Pros
Great looking basketball sneakers
Comfortable as well as sturdy
Advanced Lightstrike cushioning
Cons
A bit tight as compared to others in this price
Made from economical materials
Do You Want To know: How you can make basketball shoes more grippy?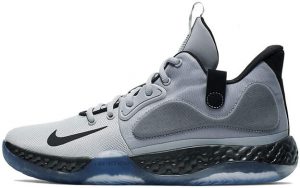 Features
Rating: ⭐⭐⭐⭐⭐
Integrated synthetic rubber in the ergonomics
Superb traction, especially outdoors
Nike basketball shoes under 100 Dollars
If you're a massive fan of the Nike KD listing and want something that is both affordable and performance-driven, then the Nike Men's KD Trey 5 might be a perfect option for you. Out of the box, they are lightweight and contains a substantial impact cushioning that will lead you to better results as you play Basketball.
Upper
The Nike Men's KD Trey 5 are good performance basketball footwear, so the materials in the construction are mediocre. Overall, the design is made up of mesh which doesn't give out a premium vibe, although it does the job when it comes to performance.
Midsole
This time Nike uses a particular type of cushioning in this shoe that is recalled as Nike renew, which is actually very ideal for every player. It has quality impact protection with lovely plush, which in turn results in a better bounce. The midsole itself is partially caged, which has its associated pros and cons.
Outer sole
As expected, the KD Trey 5 features a modified herringbone traction pattern complemented by a translucent outsole in many colorways. The rubber material at the rear end is really rugged, which is why you will get excellent traction no matter the court type. Besides that, the dust pickup is entirely minimal.
Pros
It fits pretty much like any KD model out in the market
Overall support is decent for the price
Separated tongue for extra comfort
Cons
Few containment issues due to inferior materials
No purpose space in the toe box area
Features
Rating: ⭐⭐⭐⭐⭐
Excellent grip and versatility on clean courts
Lightstrike drop within sole for cushioning
Hard and flexible construction
We all know how hard it is to find quality signature shoes without paying a premium cost upfront. However, lucky for you, the Adidas Harden Volume 5 are considered premium Basketball sneakers that will definitely stay within the 100$ price tag. If you're looking to spend on a prime model, I highly recommend getting a pair of these.
Upper
The Adidas Harden Volume 5 shoes are equipped with a textile upper, but the whole feel is regular plastic with various fuse overlays. This rigid design will provide you with additional support, especially in any outdoor condition.
Midsole
These shoes boast a light strike boost oriented midsole, which is similar to the Pro Boost Models. This setup will provide you with a lot of responsiveness as well as a prime court feel. Although, the impact protection is generally minimal or, in most cases lacking.
Outer sole
The outer sole of these shoes features a spider web tread pattern that is not something to be praised with but again, for the low cost, it will do the job. Although, I will advise you not to use it on any dusty courts as they are not suitable for these types of environments. Other than that, the traction is just average as compared to Harden Vol 4.
Pros
Reasonable support throughout the midsole
Equipped with a responsive cushioning setup
Perfect for outdoor environment
Cons
Substandard traction in dusty conditions
It lacks the premium feel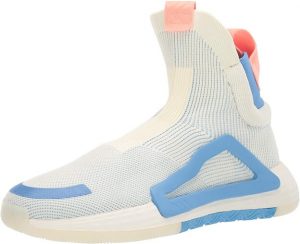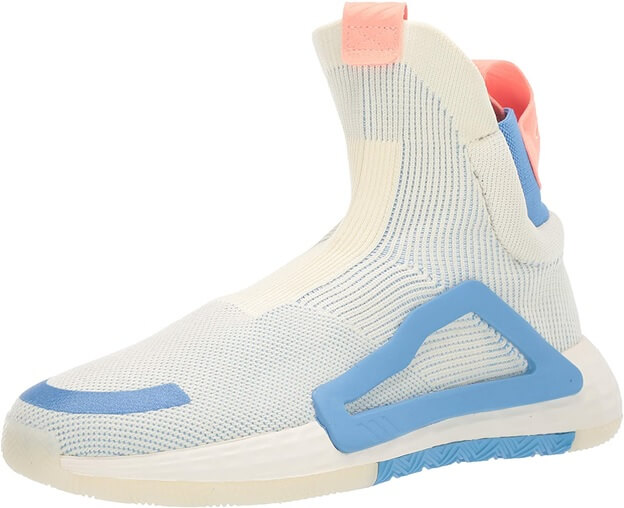 Features
Rating: ⭐⭐⭐⭐⭐
100% Synthetic in the construction
Available in multiple sizes and colour patterns
Dozens of positive reviews
Sometimes you need a bit of versatility in your sporting gear, which makes you stand out from the rest. If you agree with me, then you will defiantly praise the Men's N3xt L3v3l by Adidas. Aside from an odd-looking name, this basketball shoe is perfect for those with sensitive ankles who needs a bit of added support near the toe region.
Upper
Straight off from the looks, this basketball sneaker looks futuristic. It lacks any lacing system, which is definitely quite odd for a low-price basketball shoe. On top of that, it incorporates a sleek yet minimal silhouette which makes it unique in the lineup. Similarly, the knit pattern varies across the upper for extra convenience.
Midsole
On the lateral side of its midfoot, you will get a white form outline which pretty much acts as a midfoot cage. This will further enhance the support. On the medial side of the midfoot, there are a couple of stripes woven that is complemented by prime knit.
Outer sole
The outer sole of these high-end, affordable shoes comprises a premium rubber compound with similar traction as we saw in Harden Vol 3. Overall, its quality is superb as long as you maintain it in regular courts.
Pros
It's very comfortable to wear and use
Performance shoes with a premium look
Lightweight with decent traction
Cons
Lack of lacing system
Under cushioned soles
Features
Rating: ⭐⭐⭐⭐⭐
The advanced upper mesh makes it breathable
Fully covered heel cap for proper lockdown
Integrated with continental rubber
Finally, we have the D Lillard 2 from Adidas, another one of budget men's basketball sneakers that can lead you to optimal results. Unlike most of its competitors, the material used in its construction is quality-based so that you won't have issues concerning longevity. While design and other prime feature-wise, it's simply elegant.
Upper
This cost-efficient shoe consists of an engineered mesh upper which is astonishing to see in an under $100 basketball product. Thus, the upper itself is soft, supportive and require little to no break-in time.
Midsole
Adidas has implemented a high rubber form cushioning in their budget shoes, and this particular model is no exception. What's great about this setup is its entire length and protection against any impact you are susceptible to.
Outer sole
For traction in the outer sole continental rubber is being used. This means that it won't be completely resistant to dust, but as compared to something like the Adidas Harden Volume 5, it's good to go. Besides that, the actual outer sole is quite tight; it properly holds to the ground so you can implement your shots without any hurdle.
Pros
Woven upper makes it stand out from the competition
Clean yet aesthetically pleasing design
Superb traction pattern
Cons
Catches dust so requires frequent wiping
forefoot slippage is common
Conclusion
These were our picks for the best budget basketball footwear in 2023. If you are still unsure about your decision, then allow me to give my final thoughts.
Each brand/pair of shoes has its own set of drawbacks and features that separate them from the competition. If you want the absolute fine for your buck, I highly recommend you go for something like the Adidas D.O.N issue 3 Basketball Shoes. In addition to that, if you have extra bucks to spare, then the Nike Precision IV can be your ideal option.
Check: Best outdoor Basketball Shoes
What Material is Used in Cheap Basketball Shoe Making?
Generally, low cost basketball shoes are manufactured with the  materials that are comparatively less expensive and frequently available as compared to the ones used on big-budget shoes. Following table  sums-up materials mostly used in the manufacturing of across brands.
Material Used in Performance Budget Basketball shoes
Material
Description
Upper
Synthetic or
Suede Leather
The upper should be durable in cheap basketball shoes , so synthetic and suede materials are used.
Mesh
Mesh is light weight and breathable at the same time. Many low price shoes uses this material
Canvas
Canvas is infused with cheap rubber or sometimes with mesh to keep the basketball shoes low cost
Cushion
Foam,Air and Gel
Technology
the upper of budget basketball shoes are made of these stuff.As these technologies.Asics indtroduced Jel,Nike
picked Air And Adidas and mostly others use foam as cushioning in these shoes
Ethylene Vinyl Acetate Foam
EVA is rubber like material with maximum elasticity.Puma,New Balance & Under Armour used incorporated improved versions
of EVA in their cheaper products to provide better performance at comfort and water resistant scales.
Thermo Plastic Elastomers
Nike uses this technology for more comfort and to regulate the inside shoe temperature.
You will be interested : How to Clean Basketball Shoes
FAQ's
Q1, What are good cheap basketball sneakers in 2023?
Both the Nike Precision IV and Men's KD Trey 5 are renowned yet best budget basketball shoes even in 2022's standards.
Q2, Are cheap basketball sneakers worth getting?
If you are not tight on budget, I would recommend you go for premium options rather than cheap models. They will offer enhanced traction as well as pleasant support at the back-end.
Q3, Can We wear running shoes for basketball?
Running shoe frames are not high around the feet bone and normally designs low on the ankle. The straight forward answer to the question that can we play basketball in running shoes is: Yes, we can. Commonly, running shoes are fully capable to move speedily and provide enough cushioning on hard surfaces.
Hello!
My name is Kaz, and I am a devoted basketball enthusiast with over 15 years of experience both as a player and a coach. Beginning my career as an assistant coach for a college team, I soon found tremendous success as a professional basketball coach. I derive immense pleasure from assisting and mentoring others in matters pertaining to basketball equipment, and as such, I freely share my training programs with my followers and readers via my blog. Learn more about me on my about page.