Basketball is a game of patience, resilience, and the ability to maneuver yourself in different playing conditions.
There are no second thoughts that basketball is one of the top rated sports on the planet. It is praised by millions and played with ambitions. However, to test one's skill, concrete courts are the go-to locations. Not everyone can control their dribble and perfect their shot at these spots, separate an amateur from a professional.
Although one of the essential things to maximize your potential on rough concrete surface,  is to get prime outdoor basketball equipment.The need of a durable ball is most critical, unlike traditional ones. Because a basketball player needs a ball with excellent grip, long-lasting panels, and a consistent bounce on uneven surfaces.
4 Key Factors that Effect the Basketball Play on Concrete & Outdoor Surfaces
Professionals recommend synthetic material-based basketballs especially designated for indoor/outdoor play. Their peculiar designed promote long hours of play on rough concrete or asphalt surfaces.
In contrast, the exclusive rubber-based ball's pebbling wears out easily and is susceptible to produce an annoying pinging sound during the bounce. Moreover, the players sometimes complain about their out of round shape after use of few weeks.
Don't forget to deal with following key factors that have substantial effect on the outdoor basketball play in addition to the right choice of the ball.
1. Weather – Weather changes have an enormous effect on your outdoor play. As the temperature changes influence the bounce of the ball significantly. Increased temperature induces pressure changes in the ball (in the case of rubber ball mainly), which ultimately effects the ball's bounce. While in cold weather, you don't expect the same bounce as in summer. So a good player needs to handle the ball in harsh and light weather conditions. 
These weather changes have a perfect effect on players' handling ability, as one learns to play beyond the limitations of indoor courts' controlled and dedicated environment. 
In an experiment we observed the effect of high temperature on the bounce of the ball and get the following graph on an average of three trials.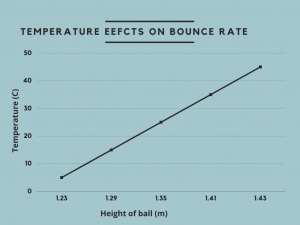 Temperature effects on bounce rate
2. Wind – An ultimate factor that can cause changes in the expected flight of a ball is wind. The wind becomes a game-changer when the opponents counter by blocking every shot to the hoop.
Occasionally, you feel forced to adjust your shots targeting to the slight left of the rim(if the wind is more on the right) and vice versa to cancel the effect of wind so that your ball can perfectly slide inside the basket. When it gets too windy, the team has to be too active to handle the ball among the sudden breaks and fast driving to the basket. 
3. Wet & Contaminated Surface – Rain can make the your concrete court slippery, so the importance of wearing a good traction increases. 
Fix: An anti-slippery sole of basketball shoe is a good solution for the wet surface play.
Similarly, if you use the parking area as an outdoor court, be careful with oil patches from vehicle leaks. Oil will contaminate your hands and ball surface as well.
Fix: You can use grease removing liquids to remove thick oil patches.
4. Sunlight – the sun has nothing to do with the ball, but its awkward angle can distort your ability to judge and see. 
Fix: Moving to different court areas, you can judge the location of shooting where the sun and the sunlight angle aren't bothering you. An easy hack can be a P-hat that will provide you shade from sudden sunlight exposure.
For your convenience, we will be reviewing the 5 Best outdoor basketballs for concrete courts that are known in the industry for their genuine quality.
So, without delay, let's head into it!
| Basketballs | Rating | Price |
| --- | --- | --- |
| Overall Best For concrete: Nike Dominate | ★★★★★ | |
| Best Official NBA size indoor/outdoor: XEDGE Basketball | ★★★★★ | |
| Best Grip Spalding Basketball: Spalding NBA Tack-Soft | ★★★★★ | |
| Best Rubber Indoor/Outdoor Basketball: Chance Premium | ★★★★★ | |
| Best Budget: Wilson MVP Rubber | ★★★★★ | |
Best outdoor Basketballs for Concrete: Top Rated Reviews
It's worth mentioning that in bringing you these reviews, we went through dozens of customers opinions on multiple platforms and consulted with renowned professionals in the industry, so you can choose the best. No matter which basketball you pick from the list,
we guarantee you that it will stand out from the crowd, providing the performance you require.
| Basketballs | Rating | Price |
| --- | --- | --- |
| Overall Best For concrete: Nike Dominate | ★★★★★ | |
| Best Official NBA size indoor/outdoor: XEDGE Basketball | ★★★★★ | |
| Best Grip Spalding Basketball: Spalding NBA Tack-Soft | ★★★★★ | |
| Best Rubber Indoor/Outdoor Basketball: Chance Premium | ★★★★★ | |
| Best Budget: Wilson MVP Rubber | ★★★★★ | |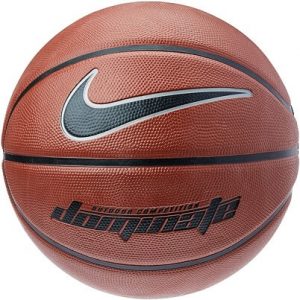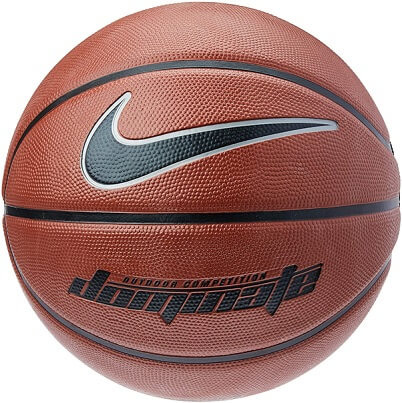 Features
Rating: ⭐⭐⭐⭐⭐
Deep groove design for extra convenience

Superior grip and performance

For both men and woman

Ultra-durable exterior 
If you're a person who often plays basketball in harsh outside conditions and needs something reliable to tailor your sporting needs, I present you the Nike Dominate Basketball 8P. It's the type of ball that not only looks exceptional but also does the walk the talk.
Surface & Grip
The basketball itself is made from a premium rubber compound, and it's very grippy. The grooves within the construction are quite porous but create one of the most admirable gripping points in the market.
Besides its dense overall design, Nike Dominate premium compared to other cheap basketball, which is steadier on each level. If that's not enough, you will definitely love the coarse-grained design to be held entirely on outdoor surfaces.
Durability
In terms of durability, this high-end sporting champ is made to last longer. It retains its shape very well, even in the harshest condition due to the incorporation of polyester material. It may also need to tend to feel bumpy and will be sharp and consistent after each tiresome session.
To sum up the durability, you can get more out of this ball after going hard for at least a year. But remember to keep the Nike Dominate Basketball 8P active all time to make it last even more than that.
Shape Retention
It isn't delightful when your favorite basketball loses its shape, especially before a professional on-court game. To fight off this hurdle, this basketball comes equipped with a molded-butyl shell, which will keep it in place no matter how hard you go on track. 
Pros
Quality deep channel traction
Made for extreme games
Extra durable with a softer feel
Cons
It can get deflated easily if not taken care
Inconsistent bounce can be observed
Verdict
In the end, I would say when it comes to Nike Basketballs, they perform well while retaining their original design, and the Nike Dominate Basketball 8P is no exception.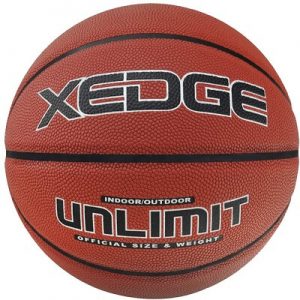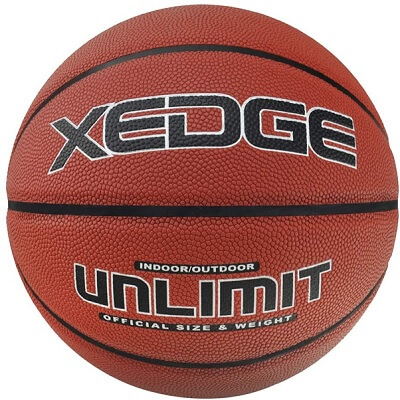 Features
Rating: ⭐⭐⭐⭐⭐
Made from specialized composite leather

It comes in official NBA size (29.5″)

Equipped with an additional inflation pump

The nylon cover makes it extra durable
Basketballs, in general, come in all sizes and shapes for added versatility. However, there are no second thoughts that for professional high-tier outdoor games, NBA official size is often preferred. If that's the case, then the XEDGE Basketball is well-suited for your dripping needs. 
Surface & Grip
Starting straight, this basketball is like any other premium baseball in the industry (Spalding NBA). It supports a leather cover integrated with a hygroscopic line-up to make you feel pro in the court. With the help of added grooves and lightweight design, this thing reduces all the slippage and provides excellent grip.
In contrast to that, the rubber middle in the design helps it to increase overall stability so that you won't feel any complication during your precious moments on the court. While being made from excellent materials, it can be used both indoors as well as outdoors.
Durability
The XEDGE Basketball is not only performance-driven and aesthetically pleasing but also quite durable in the design. It is equipped with prime materials like butyl bladder over nylon covering, making it stand out from the rest. You will be able to get a great response by using it and at the same time, reduce the maintenance cost.
If that's not to your liking, then the specialized winding will definitely please you. They are incorporated to retain the soft feel of indoor basketball but at the same time maximizing elasticity.
Official NBA Size
One of the standalone features in this performance-driven basketball is the official 29.5-inch NBA size, which will make you look pro among your teammates. 
Additional Accessories
Additionally, XEDGE provides extra accessories like two needles, a carrying bag, and a free inflation pump with this sporting good, making it a go-to option.
Pros
It's fully functional with a hygroscopic PU cover.
Available for all ages and genders alike
Leather material provides added durability and correct bounce
Cons
Sometimes it messes up the rhythm due to the sticky nature
Lack of reliability in grooves
Verdict
So, if you need an indoor/outdoor basketball for both extreme and casual games, this ball won't let you down!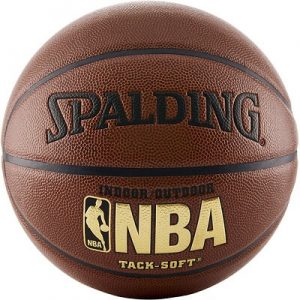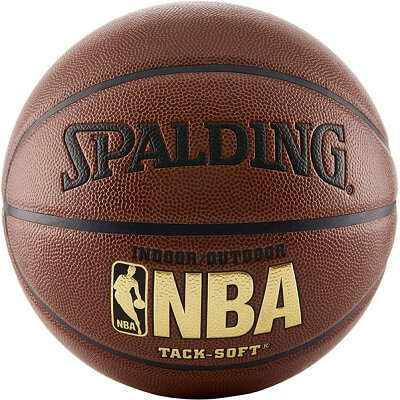 Features
Rating: ⭐⭐⭐⭐⭐
Equipped with official NBA size 

Come pre-inflated for convenience

Prime grip and feel to it

Added warranty by Spalding
Finally, in the review, we have the Spalding NBA Indoor/outdoor tack-soft, our choice for the best Spalding grip basketball. One thing to keep in mind is that it's not a replica of the NBA balls but a slightly different model with a premium texture and soft feel. For outdoor concrete surface, this thing is like a beast!
Surface & Grip
Right off the back-end, the Spalding NBA Indoor/outdoor tack-soft basketball comes in the orange-brown lining with perfect symmetry. Like the predecessors, it features quality composite materials to work more efficiently on any surface and court. 
In contrast to that, the overall cover is non-slip, smooth, and integrated with open spots to boost grip and performance. Besides that, you will be able to improve air retention due to smart Spalding construction drastically.
Durability
Give or take, its durability is of the finest quality in the industry, which of course, what will you expect from Spalding's NBA basketballs. It made to last in rough outdoor conditions then indoors, ultimately providing you value for your money. The extra tackiness that comes with this ball is definitely worth the price.
Furthermore, the Spalding NBA Indoor/outdoor tack-soft basketball lacks unrealistic bouncing capabilities compared to more classic models. This way, it won't bounce up real high and will behave like a real basketball. 
Fully Inflated
One of the added perks that this ball offers is that it comes fully inflated within the packaging. This is not a feature that will help you improve your moves, although defiantly a plus to have in a high-end sporting good.
Pros
Fully functional for competitive games
Tailored with official NBA specification
Extra tackiness in the grip
Cons
The official Spalding logo can be a bit annoying
Mediocre moisture retention
Verdict
There are no second thoughts that it's one of the best indoor/outdoor basketball currently available on Amazon. Packed with some premium perks, it's hard not to pick it for one's collection. If you're a diehard basketball fan, then not choosing it will be a significant blow.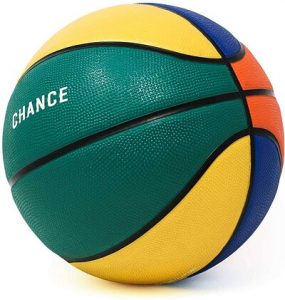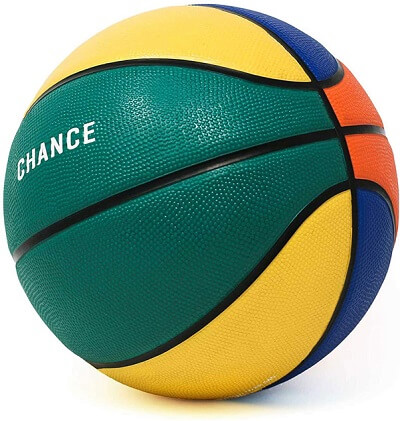 Features
Rating: ⭐⭐⭐⭐⭐
Nice looking indoor/outdoor basketball

Supports optimal pressure and high-end features

Perfect grip for extreme conditions 

Available in a wide range of colours 
Sometimes in life, all we need is a bit of change or variety in particular. If you agree with my sentiment, you will praise the upcoming basketball on our list, i.e., the Chance Premium Basketball. Its intuitive colour selection will make you forget all the worries during any game and allow you to maximize your sporting potential. 
Surface & Grip
Most basketballs can't perform equally in indoor and outdoor conditions, which is why their panel becomes ineffective after a couple of games on concrete courts. Unlike traditional balls that incorporate leather materials, this power-driven sporting useful features quality rubber construction throughout the casing.
This way, you will be able to get a premium grip and soft feel to it and score more goals than your competitors. Besides, for additional support, the deep channel pattern and held in place. However, it won't give you a premium pebble pattern like Spalding NBA street.
Durability
Being a top-tier outdoor/indoor basketball, it's well-equipped in the durability department. Whether it's hard dirt surfaces or concrete courts, it performs exceptionally. The butyl bladder locks make it inflated for longer and, at the same time, retain the power-driven grip. So, make sure to give a chance-to-Chance Premium Rubber Outdoor / Indoor Basketball. 
Modern & Unique Design
With the aid of unique and vibrant colours, this best basketball standout from the rest. It's available in multiple designs like Pascal-orange, Chomper-green, as well as Spade-green and black to give you the versatility that you ever wanted. In contrast to that, if you feel like picking a more traditional design, I recommend going for Nike Dominate.
Pros
Best suited for both Un-sex youth and adults likewise
Extreme grip with an aggressive pebble pattern
Equipped with vibrant colors, designs, and sizes
Cons
It can get stinky after some times
For some users, its design might be a bit odd
Verdict
All in all, it's a decent and affordable basketball for every type of basketball enthusiast out there. Due to the price range, its grip might be mediocre, but other than that, it's good to go.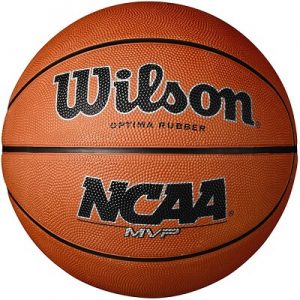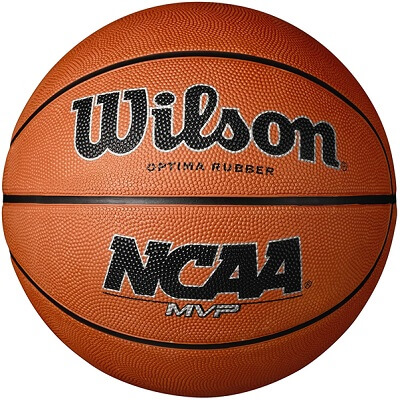 Features
Rating: ⭐⭐⭐⭐⭐
Durable rubber construction

Improved grip with wide channel design

It comes with an ideal inflation level

Amazon Choice for Best rubber basketball
We all know what Wilson is capable of making, and this sporting beast is no exception. The Wilson MVP is a ball that is built for extreme games. So, rule the court with this premium yet affordable basketball.
Surface & Grip
To be frank, you can use it for indoor conditions, but its authentic charm can be exposed to outdoor courts. As you use it outside, you won't see any scuffs and scrapes, usually incorporated indoors. Its adjustable size and decent grip will improve your ball-handling skills, while the wide channel footprint will increase its longevity. 
As far as design is concerned, it comes with a durable rubber design with wide channel construction in a light-orange outlook. It will definitely feel aesthetically suitable for your basketball needs.
Durability
Similarly, its durability is a game-changing feature resulting in dozens of positive reviews throughout the internet. It has fully functional doted markings worldwide, making it a go-to model when buying the best outdoor basketball ball for concrete surfaces. 
Additionally, all these features don't take away the premium bounce incorporated with Wilson products. Whether it's grip or panel, they will support you in the long run.
Proper Inflation & Multiple Sizes
It is always a bit of disappointment when your hands can't be adequately gripped with the basketball itself due to varying size levels. The Wilson MVP Rubber Basketball is provided in multiple sizes to tailor your needs to fight off this. At the same time, proper inflation can reflect its effectiveness after each game.
Pros
Power-driving ergonomics
Reasonable bounce with added support
Affordable package
Cons
Lack of consistent air retention
Requires additional pump for extra convenience
Verdict
If you need an affordable yet efficient basketball for your professional or casual sporting needs, I can easily recommend the Wilson MVP Rubber Basketball. It's supportive, robust, and comes in multiple sizes so that you won't face any inconvenience.
CONCLUSION 
In conclusion, getting a top outdoor basketball for concrete surfaces is a bit different than its traditional counterparts. They tend to be more reliable, and most of them even integrate deep channel patterns for added grip and support. Besides, being made for official NBA size is always a plus and can make you feel like a pro in the gameplay. This is the reason our top recommended basketball for outdoor concrete, asphalt and cement surfaces is- Nike Dominate Basketball 8P. For concrete surfaces, this basketball ball won't disappoint you at all!  
Frequently Asked Questions
 Q1, Is it convenient to use composite basketballs for outdoor play?
If you're currently tight on budget and can't afford genuine leather balls, then it's convenient to go for composite balls for outdoor and indoor plays. 
Q2, How well do the outdoor basketballs last?
In general, if playing outdoor basketball is in your daily routine, then it can last you up to 8 months to a year until its panel starts to wear off. However, premium balls can drastically increase longevity. 
Q3, What is the best basketball brand in the market for outdoor games?
Both Wilson and Spalding are formidable competitors for producing premium edition basketball equipment. Although, for outdoor games, Wilson can be a much better choice for their budget-friendly nature
Hello!
My name is Kaz, and I am a devoted basketball enthusiast with over 15 years of experience both as a player and a coach. Beginning my career as an assistant coach for a college team, I soon found tremendous success as a professional basketball coach. I derive immense pleasure from assisting and mentoring others in matters pertaining to basketball equipment, and as such, I freely share my training programs with my followers and readers via my blog. Learn more about me on my about page.