Are you interested to play basketball outdoors, especially in your drive way or in nearby extra lawn?
If yes,congratulations! we here to help you in buying best outdoor portable basketball hoops in 2023. The essence of sports is beyond doubt, irrespective of age, profession, and life goals. If you understand the importance of sports and interested in playing basketball, you are in the right place.
Both you are a professional basketball player or a novice, acquisition of durable and quality basketball equipment must be your prime concern to relish the gamut of a basketball game. We intend to assist you in buying the best portable basketball hoops available in the market. The below-given description about every basketball hoop will facilitate you in finding a suitable hoop system for you as well as your kids.
8 Things to Look for Before Buying a Portable Basketball Hoop
If you are fond of playing basketball and want to know the guidelines before buying a portable basketball hoop, these tips and factors will help you make your decision about the best portable hoop for you.
1. Ideal location to install the hoop
This is the most important thing to look for, you need to have a huge space to play. It should be a flat, paved area, you may opt for your driveway for this purpose and it would be ideal to accommodate the hoop and players.
Another option could be a vast court( 94 ft by 50 ft) which can have two hoops installed. Placing the hoop on the street is not very recommended but if you do so you will have to be very careful about security checks and neighborhood permissions.
One last thing to consider is to call 811 before digging the ground for an in-ground unit. It is necessary to know about the underground gas or electric lines.
2. The Capacity of the Base
The capacity of the Base strongly describes how stable the hoops are. Filling material for the base is usually water or sand that is measured in gallons. Low-priced hoops have a capacity of around 27 gallons. The best and most expensive hoops have a base capacity of 37 gallons or more.
3. Support Pole
Support Pole should be strong and for this reason, two-piece configuration poles are recommended rather than three-piece poles.
 4. Overhang
Overhang is the distance from the pole to the backboard. It provides safety to the player when playing underneath the basket. The recommended height for the overhang is 2 feet to 4 feet.
5. The Backboard ( size and material)
If we talk about the size of the backboard, yes the size matters! Though the bigger size is better, you have to look at your driveway size too. For a bigger driveway 60-72″ size is ideal.
The material of backboards can vary in terms of durability and playability. The best quality is made up of tempered glass. Other materials are polycarbonate and acrylic. Polycarbonate ones get dimmer with time whereas acrylic ones do not.
6. Other Accessories
*Rim: The standard rim on a basketball hoop is 18″ in diameter.
*Nets: Usually nylon is used in making hoops but chain-link net can also be used.
*Height Adjustment: A height adjustment mechanism is a good option for players of different age groups. Usually, height is adjustable between 7.5′ up to 10′.
7. Weight
Weight is another important feature when looking for a portable basketball hoop. We recommend light-weighted hoops to choose to carry around easily. To prevent the hoops from thunder, storm, or hurricane a shipping weight of nearly 1600 pounds will be ideal.
8. Brands and Budget
Price is one the most important thing before buying anything. A quality hoop that is durable is worth spending a little more. We suggest having a complete overlook before making any purchase. Here are a few brands and prices to review.
Best Outdoor Portable Basketball Hoops Reviews 2023
The most important key feature one must consider to buy best outdoor portable hoop is the base capacity that ensures stability on ground, pole configuration and backboard size and material.
| Basketball Hoops | Rating | Price |
| --- | --- | --- |
| Best Portable Basketball Hoop: NBA Portable Basketball Hoop | ★★★★★ | |
| Best Sturdy and rustproof: MaxKare Basketball Hoop | ★★★★★ | |
| Cozy Dio Basketball Hoop: easily moveable and adjustable height | ★★★★★ | |
| Lifetime Portable Basketball Hoop - for all-weather and adjustable height. | ★★★★★ | |
| MARNUR Portable Hoop: Durable material and easily adjustable | ★★★★★ | |
| MaxKare Portable Basketball Hoop: Poolside, rustproof system | ★★★★★ | |
| Lifetime Portable Basketball Hoop: Durable and protected shafts | ★★★★★ | |
| MaxKare Basketball Hoop: shock absorber and stable | ★★★★★ | |
| Best Professional Basketball System: Spalding NBA Portable | ★★★★★ | |
| Lifetime Portable Basketball System: affordable and durable | ★★★★★ | |
| Best Easy to assemble Hoop: Lifetime 90023 Portable | ★★★★★ | |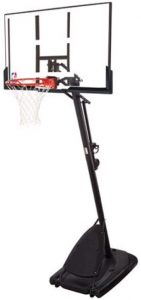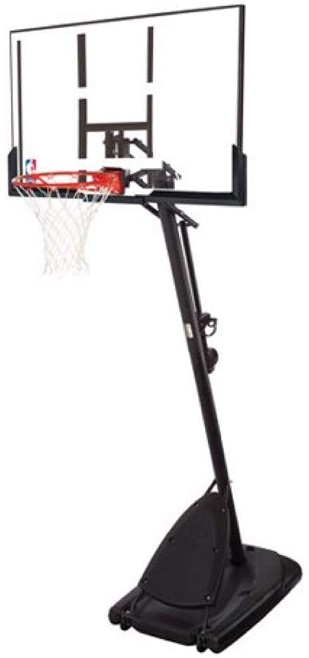 Specifications
Rating: ⭐⭐⭐⭐⭐
Backboard with arena-style padding
Sustainable steel board frame
Portable and designed for outdoor play
Stable base filled with sand or water
Adjustable height suitable for every age
Material and Quality
If you are searching for a durable outdoor basketball hoop, Spalding's NBA goal is the ultimate choice to withstand the impacts of weather and shooting. The polycarbonate backboard, along with steel breakaway rim, gives it stability and sustainability.
Besides, its height is adjustable for any age group. Its base has two front wheels which enable it to roll smoothly. Moreover, it is primarily designed for outdoor residential play. Therefore, the Spalding polycarbonate backboard NBA portable basketball goal system qualifies to be your outdoor basketball hoop.
Pros
Durable due to high quality hardware
Perfect for outdoor use
Best customer support
Cons
Assembly requires a serious effort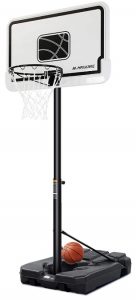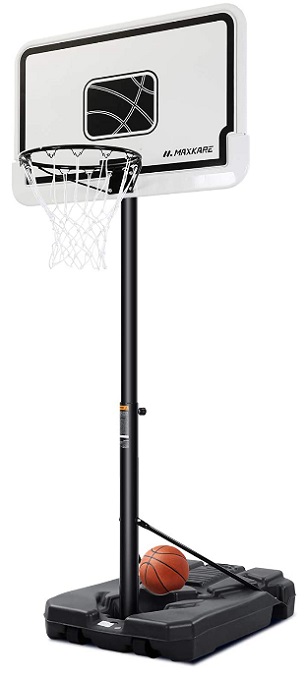 Specifications
Rating: ⭐⭐⭐⭐⭐
Apt for indoor and outdoor games
Sturdy, all-weather, and rust-resistant
Adjustable height perfect for both kids and elders
Built-in wheels enable portability
Ensures stability during shooting or practice by filling the base with sand or water
Durability, rust-free, and sturdiness are its salient features
The MaxKare basketball hoop portable is equipped with a compelling style and durable material, making it a perfect portable basketball hoop for playing indoor and outdoor basketball courts. Its HDPE backboard is weather resistant. Besides, it is rust-free, and its nylon net is durable and weather friendly. Moreover, its solid base prevents it from wobbling while shooting or practising. If you search for a durable, portable, and player-friendly basketball hoop to play without the fear of wear and weather, MaxKare portable hoop is your perfect choice.
Quality and Material
The MaxKare portable basketball hoop is designed to insulate the interference of rain and the constraints of movability. The material used in its backboard and base prevents it from the permeation of rain and rust. The groove's design at its base to put the ball while resting during the game adds more character to the hoop. Moreover, its adjustable height makes it suitable for kids and elders alike.
It got a 4.5 rating.
Pros
Ensures stability by filling the base with sand or water
Adjustable height perfect for both kids and elders
Cons
Material of pole is little bit compromised
Setup is not easy


Specifications
Rating: ⭐⭐⭐⭐⭐
Adjustable height for teenagers and kids
Large base and triangle support give stability to the hoop system
Portable with little effort
Rustproof pole and a strong backboard
Perfect configuration for kids indoor and outdoor basketball games
The engagement of your kids is significant for their mental and physical health. If you want to get their interest in sports, basketball is an exciting game that can be played indoors and outdoors. Cozy Dio basketball hoop is a sound hoop system that caters to the needs of your kids.
Its rating is 5 out of 5, which manifests the customer satisfaction about the product.
Portability and Durability
Its two front wheels help carry it indoor and outdoor basketball courts. You only need to tilt the stand to the ground and take it anywhere you want. The poly carbonate protection of its backboard, rust-free poles, and the triangular support at its base enhance its durability.
Pros
Easy to Carry

Portable with little effort
Cons
Needs to be more sturdier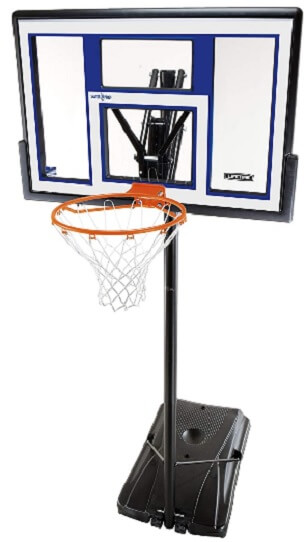 Specifications
Rating: ⭐⭐⭐⭐⭐
Durable graphics due to print in UV-Protected Inks
Its steel shafts and Nylon Net are weather resistant
 Height is adjustable quickly
Wheels assist in rolling it to various places
All elements are powder-coated, thereby making it rustproof
Lifetime is a familiar name for its provision of equipment for basketball courts. If you search for a durable and portable basketball hoop system, its portable 90168 portable basketball hoop should be your ultimate choice. It fulfils the essential characteristics of a basketball hoop in terms of durability, adjustability, and portability.
Material and Quality
The Lifetime portable hoop features a durable poly carbonate backboard and rustproof powder-coated steel shafts. Besides, it is easily adjustable to perfect its utility. Therefore, it encourages shooting without fearing quick wear and tear.
It got a 4.5 rating in terms of customer reviews.
Pros
Weather-Resistant Finishing
Suitable for all heights
The hoop is a good value for the money
Cons
Lack some competitive charactristics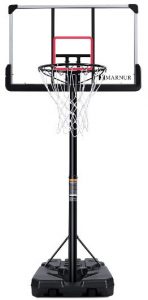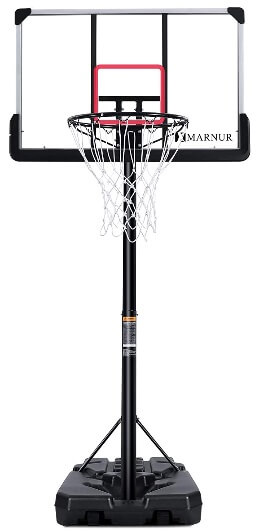 Specifications
Rating: ⭐⭐⭐⭐⭐
Durable
Organic glass edge protection design backboard
Rust-free and shock-absorbing pole
Weight and wheels make it easy for portability
An upgraded height adjustable system
Perfect for both indoor and outdoor courts
The essence of sports is beyond doubt for a healthy life for you and your kids. Playing basketball indoors and outdoors gives mental and physical health. A durable, adjustable, and portable hoop system is pivotal for playing basketball. Given the qualities and material of the MANOR basketball hoop system merits its selection for your outdoor and indoor basketball courts.
Quality and Material
The MARNUR portable basketball Goal system seems as a customized product for you, irrespective of your age and body. The flagship qualities include Shatter-resistance, rustproof, easy configuration, and portability. These qualities qualify it for every age group and indoor and outdoor basketball court. The organic glass protection enables it to resist shatter and sustain shock, thereby making it more durable. Moreover, its shafts are also treated with smooth plastic spraying, which protects it from rust and paint. Besides, the MANUR basketball hoop's enlarged base gives it more stability and sturdiness, which is very important to sustain shoot and wind impact during a match. You can quickly move it to outdoor and indoor courts by giving it a little outward tilt and supported by its front wheels. Thus, the MANOR basketball hoop portable system's configuration and utility suggest that it is a perfect choice for you and your kids.
Pros
Weight and wheels make it easy for portability
Durable
Cons
Rim is not of high quality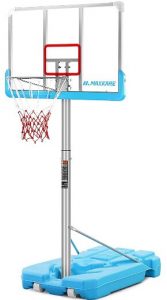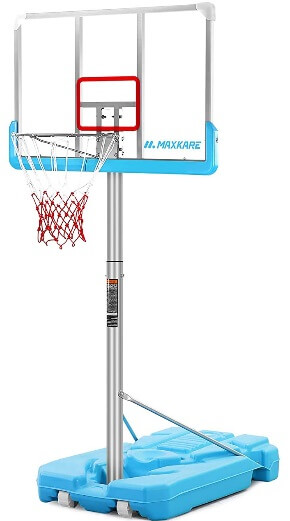 Specifications
Rating: ⭐⭐⭐⭐⭐
Solidity and corrosion resistance augment durability
Adjustable height ranges compliments utility in pools
The base filled with water or sand along with the triangular support give sturdiness
The extra-large backboard ensures the basketball to bounce back into the pool
Thick shafts and nylon net amplify its stability and tenacity
Having a pool in your house is not less than a privilege. Beyond adding aesthetics to your home, you can enjoy a nice summer day or can get exercise. A swimming pool basketball hoop will be a perfect addition giving you more ways to enjoy your pool and bring in more liveliness in the pool area. Neverthless, to make the best use of your swimming pool, you must install a MaxKare portable basketball hoop system.
Quality and Material
If you want a portable basketball hoop for your swimming pool or taking it outdoor swimming pools, the MaxCare basketball hoop goal portable system merits your consideration. The material used in its manufacturing and its configuration manifests its suitability. Corrosion, rust, and water accumulation are pertinent concerns while buying a poolside basketball hoop. Therefore, the aluminium alloy resists corrosion and gives rigidity, thereby neutralizing most of the circumstances mentioned earlier. It ensures a comfortable height adjustment system, which is vital for kids and playing in swimming pools at different depths. Its poles are thick, and the backboard and other elements are fixed with bolts giving stability and sturdiness to sustain the impacts of basketball shooting and wind pressure.
It could weigh a bit more due to the size of its backboard, poles, and base. However, the shatterproof backboard, stable shafts, and strong base give it durability and make your game more enjoyable.
Ratings 5/5
Pros
The base filling support sturdiness
The extra-large backboard ensures bounce back into the pool

Anti-Rust & Aluminum compound
Cons
Assembly needs a serious effort
Consumers reported rim bending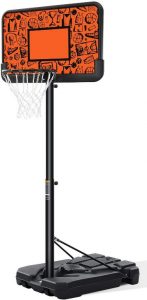 Specifications
Rating: ⭐⭐⭐⭐⭐
Its high-density HDPE backboard endures shocks and cracks

Its triangular support to pole and stable base give it sustainability


Height is adjustable with inner tube design

Its wheels assist you in moving it with minimum effort

Material and Quality
The acquisition of a durable and manageable basketball hoop is the critical element for every basketball enthusiast. The MaxKare outdoor basketball hoop meets the requirements of both the kids and adults. The inner tube design and telescopic knobs are used to adjust its height to accommodate kids and adults equally. Moreover, its backboard is featured with high-density HDPE, which prevents it from cracking and shooting. It has a strong net and rim to sustain changing weather conditions. Besides, its elements are sprayed with paint to prevent them from rusting. Thus, the MaxKare basketball hoop encompasses the characters required for a sustainable hoop in the basketball court.
Pros
Anti-cracking Backboard

Sturdy Pole
Cons
Thin Rim material
Light base creates issues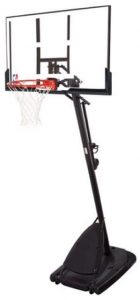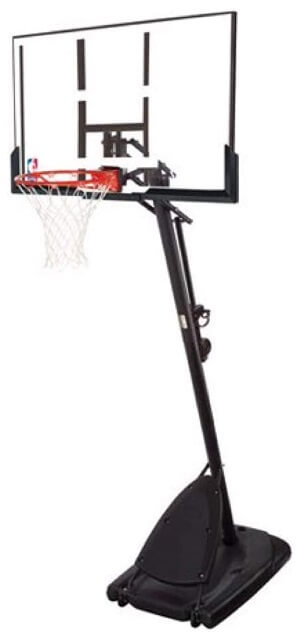 Specifications
Rating: ⭐⭐⭐⭐⭐
The acrylic backboard sustains the vicissitude of weather
Sturdiness allows dunking
More suitable for mature teens and adults
The thickness of backboard prevents shattering
Steel protected rim avoids corrosion
Material and Quality
Spalding is undoubtedly a celebrated brand credited with its various sports equipment. Given the material and features, the Spalding NBA portable basketball system is your best bet. The capacity of its base gives it sturdiness needed to endure dunking. Moreover, the thickness of its pole and the metal struts provide added stability to bear the impacts of shock and shooting. Besides, the Spalding NBA portable basketball system's height adjustment system is more durable than that of other hoop models. It is portable for indoor and outdoor courts. It is preferable for adults and youngsters.
Pros
Top quality, higly durable
Set up instructions are easy to follow
Stable, tight rim
Cons
Transportation is not easy
It is hard to pull the main pole together
Long time to assemble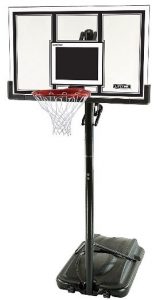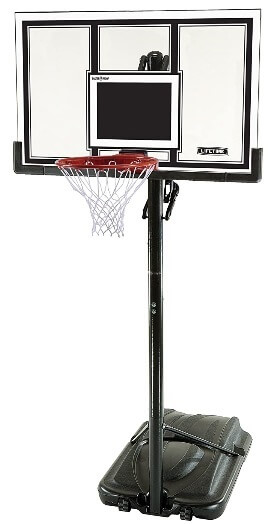 Specifications
Rating: ⭐⭐⭐⭐⭐
Telescopic pole design eases adjustment
Its fusion backboard is shatterproof
Powder coating protects poles from corrosion and rust
Easy to carry and install
Durable rim with a weather-resistant nylon net
Lifetime is among the pioneers who introduced the portable basketball hoops, thereby facilitating professionals and novices to practice and basketball indoors and outdoors.
Quality and Material
The Lifetime caters the needs of kids and adults alike through introducing innovation and adaptability in their basketball hoops. Therefore, the Lifetime portable basketball system is going to be your perfect choice. The HDPE material used in its backboard enhances its durability and performance. It is shatterproof.
The rim along with its nylon net is weather-resistant, enabling you free to play in any weather. Besides, its height adjustment feature is highly appreciated. Moreover, it is affordable and more suitable for kids.
Pros
Easy to carry and install
Durable rim with a weather-resistant nylon net
Cons
More Space requirement  to fit 54-inch backboard
Heat can cause backboard harm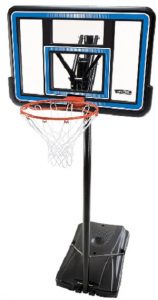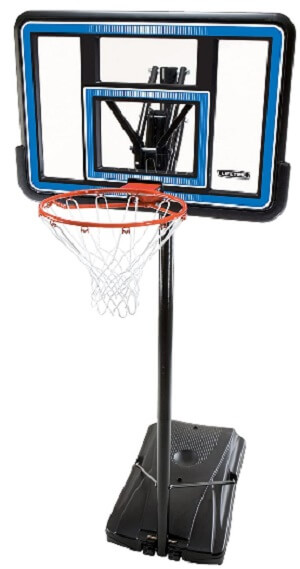 Specifications
Rating: ⭐⭐⭐⭐⭐
Durable, shatterproof backboard
Coated steel shafts are weather resistant
Portable base filled with water or sand to give stability to the hoop
Sturdy and sustainable plastic base
Easy to assemble and adjust
The Lifetime portable basketball system encompasses a durable backboard. It is featured with shatterproof fusion system enabling it to endure shooting and give suitable rebounds. Its height is adjustable to facilitate kids and adults. Besides, the coated pole sustains the impacts of weather and provides stability to the hoop system. Its base gives sturdiness when filled with water or sand and helps in rolling the hoop as well. Moreover, its coated steel rim and all-weather net help you to play without any weather constraints. Thus, given the features and qualities of a Lifetime portable backboard basketball system, it must be your perfect bet!
Pros
Shatter proof back board
Easy to assemble and adjust
Cons
Not suitable for aggressive play
Frequently Asked Questions
What are the advantages Of using portable basketball hoops?
They are convenient to use and install.
They are easily movable.
 In-ground or wall-mounted systems require certain conditions for installment but portable basketball hoops don't.
There are many flexible options in portable systems for the adjustment of height etc.
They are suitable for all age group players.
You can dunk on them easily as some models offer it.
Goalrilla:
Goalrilla is a big name in basketball systems in fact, it is the most durable in the basketball Industry. The best features it offers are its stability, crank adjust actuator ( 7.5-10.0 feet), durability, safety and its wide variety of high-end products. Goalrilla offers a one piece pole system that is a great thing to dunk.
Spalding:
Spalding offers high quality basketball products including all kinds of hoops. It is the oldest name in the sporting goods Industry over 130 years. They offer high-quality, durable hoops. These are much cheaper than other brands but have much better features. Some figures show that it is the most preferred brand in the USA.
Lifetime:
Lifetime is another famous brand. It has great basketball hoops for goofing around or for kids under the age of 13.Their brand is world-wide trusted. Their hoops are designed with a roller base system which allows the players to locate the basketball goal anywhere. They rely on a Sturdy and durable polyethylene roller base filled with sand or water for stability.
Hello!
My name is Kaz, and I am a devoted basketball enthusiast with over 15 years of experience both as a player and a coach. Beginning my career as an assistant coach for a college team, I soon found tremendous success as a professional basketball coach. I derive immense pleasure from assisting and mentoring others in matters pertaining to basketball equipment, and as such, I freely share my training programs with my followers and readers via my blog. Learn more about me on my about page.