Are you looking for ways to make your outdoor basketball game more productive?
We have brought a list of best in-ground basketball hoops that will turn out to be your most significant investment. After all, what would be more effective than investing in something which brings your loved ones nearer and you get some quality time to spend with them?
These days, portable basketball hoops are common due to their volatility, but they tend to rattle and shake now and then. Permanent installation of basketball hoops will bring you a lot more fun by solving the issues with the other kind of hoops.
This article will help you out in finding one of the best in-ground basketball hoops.
Make your final decision of buying the one after giving this post a thorough read as we have discussed every aspect in every possible detail that you must look into.
Best outdoor In-ground Basketball Hoops in 2022
A worthwhile investment needs a wise decision. Don't get worried. We are here to make you pick the most reasonable and the best basketball hoops based on detailed research, customer reviews, practical experiences, and experts' advice.
| Basketball Hoops | Rating | Price |
| --- | --- | --- |
| Silverback 54" In-Ground Height Adjustable | ★★★★★ | |
| Lifetime Adjustable Basketball Hoop | ★★★★★ | |
| Goalrilla GS54 In-ground basketball hoop | ★★★★★ | |
| Spalding NBA Aluminum Trim Glass Backboard In-Ground | ★★★★★ | |
| Lifetime 71281 In-ground Power Lift Basketball System | ★★★★★ | |
Specifications
Rating: ⭐⭐⭐⭐⭐
2 Foot Overhang

with

4 x 4 Inch Steel Pole

Directly installs into ground,secured by concrete

Supports rough play with pole and backboard pad 

Pro-style breakaway rim, bear pressure with flex
Product Description
Silverback offers one of the best in-ground basketball hoops with mind-blowing features. The tempered glass backboard and its adjustable characteristics make it quite visible in the list of best hoops.
Features
Arena-style performance
Pro-style rim and backboard flexes under pressure
Protective Backboard and pole padding protects the hoop during lay-ups and rough play
Height adjustable powder-coated steel pole with all-steel actuator
Materials and Quality
The backboard comes with a standard size of 54 inches width and 33 inches depth and is liked by most users. The 5mm thick, strengthened glass is used in its manufacturing. Moreover, the addition of a metal frame provides the rigidity and protects it against hard shots and dunking.
The product is height adjustable from 7.5 feet to 10 feet, and this feature complies with the ASTM standards for safety. An actuator crank helps in height adjustments fixed at the back of the pole.
The padding of the pole softens it and prevents the mishaps from hitting the pole accidentally by making hard shots. Besides, the pro-style breakaway rim protects the players from getting injured.
Pros
Breakaway pro-style rim to avoid injuries
Padded pole and backboard following the ASTM standards for safety
Long-lasting backed with 5-years limited warranty
Anti-corrosion paint from DuPont, which protects from rusting protection
Cons
Anchor kit may be missing in some packages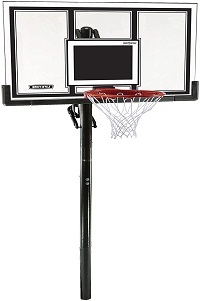 Specifications
Rating: ⭐⭐⭐⭐⭐
Designed for rugged surface and high-intensity play

Backboard made of sturdy material for shatter-proof action

Backboard frame pad provide protection

Well-built backboard made of Makrolon polycarbonate

Product Description
The lifetime offers an affordable and very reasonable in-ground hoop available with the utmost features and specifications. The polycarbonate (Makrolon) backboard is shatterproof, while it's steel frame is molded.
Features
Nylon net handles all types of weathers during the year
Rim with two layers of springs
Steel pole comes with a powder coating in three parts
The overall structure provides the best support to the hoop.
Materials and Quality
The high-quality materials make this hoop among the best in-ground basketball hoops. The steel rim with double layers protects it from any sort of damage while providing support for active dunking too.
The 7.5 feet to 10 feet height adjustments require a chair or ladder to adjust it correctly by the adults instead of teenagers.
The Lifetime hoop is affordable and does not require massive investment for buying it. The player enjoys maximum features in a single product at a reasonable cost. While dunking or shooting too hard, the system won't fall and remains intact for many years by giving the best experience ever.
Pros
Steel pole with three parts give providesthe best grip
Double compression spring system for dunking and hard shots
All-weather resistant nylon net
5-year warranty
Affordable
Cons
Backboard feels a bit too flimsy
The slightly lengty installation procedure is time-consuming and requires at least two people
Specifications
Rating: ⭐⭐⭐⭐⭐
Tempered glass backboard for best rebound performance

Support pole with 5" x 5" steel piece
connects with 48" deep concrete base via an anchor kit
Product Description
Goalrilla is known for manufacturing excellent quality basketball hoops. The highly recommended hoop perfectly fits in backyards and driveways and lasts for several years.
Features
Powder-coated, rust-resistant steel rim is rust-resistant with maximum durability
The hoop is equipped with an element of unbolting and moving the goal
The solid construction ensures zero shakings or wobbling
Adjustable height actuator
Materials and Quality
The Goalrilla GS 54 model is equipped with 54 inches backboard. Furthermore, the backboard is manufactured with 3/8 inches thick tempered glass.
If you want an in-ground hoop with the bigger backboard, undoubtedly, Goalrilla will be an excellent choice. You can get 60 inches to 72 inches backboard, providing the optimum quality. The support pole is made up of 5" x 5" piece of steel that connects with 48 inches deep concrete base.
Pros
Bigger versions of backboards
Excellent solid construction that
ensures zero shakings and wobbling
You can easily uninstallation this hoop whenever you want to
A brand new anchor kit helps in uninstalling the hoop, instead of digging
Long-lasting and stable
Cons
Other high-end models of Goalrilla offers some more latest features
Specifications
Rating: ⭐⭐⭐⭐⭐
3.5MM thick acrylic backboard for superior rebound

Pro-Glide lift system for hassle free height adjustment

Easy installation via ground sleeve anchor system

Height adjustment feature 7.5 to 10 feet
Product Description
Spalding is making its name for manufacturing the top quality best in-ground basketball hoops. The Spalding NBA comes with the dimensions of 63 x 11 x 11 inches. Moreover, it weighs almost 148 pounds.
Features
Aluminum trim glass backboard with steel frame
Pro-image breakaway rim
U-turn lift with a detachable handle
7 feet to 10 feet height adjustments
Materials and Quality
The adjustable pro-style rim can be adjusted from 7 feet to 10 feet. The system has a U-turn lift mechanism that allows the height adjustments. Occasionally, lubricate the crank used for adjusting the height for best experience and durability.
The reasonable Spalding model has a glass backboard that gives a professional look while playing. In short, this sturdy in-ground basketball hoop gives the utmost fun and entertaining time to the players.
Pros
Sturdy product with high-quality materials
Ground sleeve
Glass backboard
Reasonable
U-turn lift mechanism to offer perfect adjustments
Cons
The crank needs to get lubricated from time to time
Slightly difficult assembly
Specifications
Rating: ⭐⭐⭐⭐⭐
Power lift height adjustments

Pole with friction-weld joint, defends against unwanted movement

Weather resistance to discoloration and rusting
Product Description
The lifetime 71281 is an in-ground power lift basketball system. This setup is available with 52 inches shatterproof steel frame. Its polycarbonate backboard ensures longer life and durability of the product.
Features
Strong steel frame backboard
Slam-it rim for dunking
Support pole with three pieces Support pole
Powder-coated steel to sustain every weather
Adds excellent value for its player
Materials and Quality
The affordable and durable basketball system offered by Lifetime is equipped with high-quality materials. Featuring many useful characteristics, this product will last for years. Slam-It rim comes with an all-weather resistant nylon net. The power lift change mechanism and 52 inches steel-framed backboard adds more value to the product.
Pros
Discoloration resistant product
Ensures Ultraviolet protection
Height adjustments between 7.5 ft to 10 ft
Slam-It nylon net rim
Reasonable with maximum advantages
Cons
We could not find any such con to be discussed
Specifications
Rating: ⭐⭐⭐⭐⭐
Seven gauge steel pole
Precise rim height adjustment
Dual spring heavy-duty break away flex rim
Rim with pro tube net connector
Product Description
Ryval C660 has all the right stuff; it is an in-ground hoop with massive hot-dip galvanized, seven gauge pole.
Features
Premium gusset design
Direct rim attachment
FX lift-assist cylinder
Extension arms
Premium rust protection
Materials and Quality
The hop has a thick clear arena-style backboard. By connecting the dual spring effect with the lower structural arm on the basketball system, it is ensured that dunking will not affect the integrity of the backboard.
This in-ground hoop includes all the padding. The performance of the Ryval C660 is always up to the mark, either it's a family-friendly or severe competition. It is covered by a lifetime dunk warranty as well.
Pros
Super strong and sturdy
Moveable
Removable height adjuster crank
Larger 60" backboard
Low minimum of height-5 feet- and continuous adjustment
Cons
Heavyweight – requiring strength and multiple people to install
A bit pricey
No built-in measuring device
Hello!
I am Kaz, a passionate basketball player and coach since fifteen years. i have started my career as an assistant coach for college team. I enjoyed tremendous success with the college team as a professional basketball coach.I love to help and guide the people about basketball gears. I love to share my free training programs with my readers and fans on my blog.